Faces of Football: England - a letter to the national team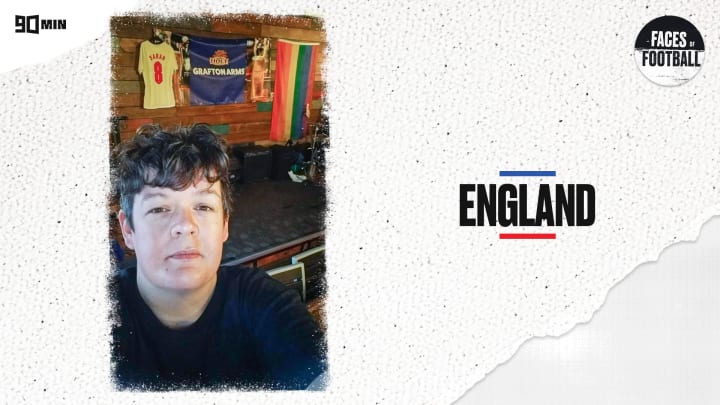 Image by Matthew Burt - 90min /
Dear English national team, 
I'm Sarah Jones, I'm from Manchester, and I've been supporting England since I was around six years old. My earliest memory of the Three Lions is from the 1990 World Cup, when we were beaten on penalties by Germany - something that all England fans have become all too familiar with over the years. 
There's been many highlights for me as an England fan. Beating Spain on penalties in Euro 96 was joyful. Watching Shaun Wright-Phillips, one of my favourite Manchester City players, score on his England debut, is another which stands out.
There's been plenty of highs and lows over the years, but in recent years there's thankfully been more of the former than the latter. Reaching the final of the Euros last year - the first final England men's team had reached in my lifetime - was an amazing achievement.
There seems to be much more togetherness in the England squad these days, certainly compared to the early 2000s. Hopefully this unity leads to success at the 2022 FIFA World Cup. 
My favourite England players include Phil Foden, Jack Grealish, Kyle Walker and John Stones. As a City fan, it's great to see these, and others, do well in an England shirt and hopefully they can perform well in Qatar.
If I can't get to a game, I tend to watch England play in the pub. This goes for most England fans I know! I run a pub where football is a huge part of what we do, and for this year's World Cup we're planning on hosting some huge events throughout it.
England fans are special because despite the years of heartache, every tournament we still believe we can win it. Even though we've had a poor year in the Nations League, once the first whistle goes of the World Cup tournament we'll believe we have a chance!
I plan to watch the World Cup in my pub, the Grafton Arms, a Joseph Holt pub located just outside Manchester City Centre. There's always such an incredible atmosphere in here for both men's and women's football, and it will be the same for this tournament.
I think England, after reaching the semis in the last World Cup and the finals of last year's Euros, have a decent chance of achieving something similar this time round too. I think the semifinals would represent a decent tournament for us, though most England fans I know believe we can go on and win the whole thing.
Usually, England play with three at the back with wing-backs out wide. Depending on injuries, I think we'll use the same formation. Harry Kane will start up top, with Foden, Grealish, and Mason Mount pushing for starts behind him. Bukayo Saka should also start, he's been in good form for Arsenal this season. If we play an attacking style of football, we should cause teams plenty of problems.
To win the World Cup for the first time since 1966, and the first time in my lifetime, would be incredible. We were so close to winning the Euros last year, to go one step further in the World Cup would be amazing.
The whole country would celebrate, pubs would be full of celebrations and good times, here's hoping England can do it!
Good luck to Gareth Southgate and the whole squad!