Every Kit at Euro 96 - Ranked from Worst to Best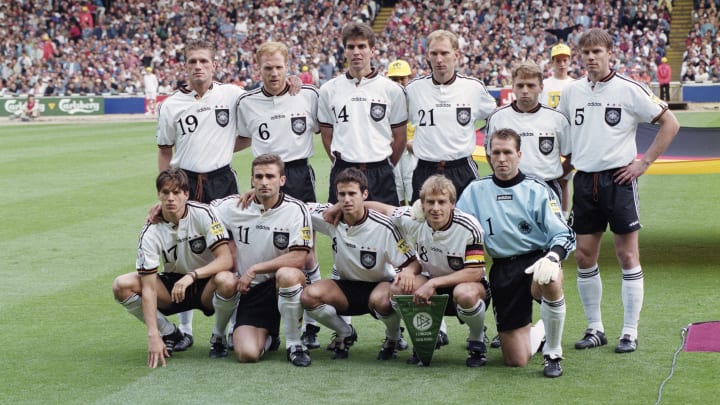 Euro 96 is regarded by many as one of the greatest European Championship tournaments of all time.
Hosted on English soil, it was the first time the Euros featured a four-group 16-team format, which is - let's be honest - by far the best - while legendary talents like Alan Shearer, Hristo Stoichkov, Jurgen Klinsmann, Davor Suker, Paul Gascoigne and Matthias Sammer lit up the summer, soundtracked by Baddiel, Skinner and The Lightning Seeds.
For England fans, it was a tournament that epitomised glorious failure - with the Three Lions outplaying the Dutch, winning a penalty shootout, recapturing the nation's hearts...only to lose to the Germans on penalties, again.
But while football didn't actually come home, it was a run and a tournament that has lived long in the memory of English fans. And with no live football available at this moment in time (outside of Korea and Belarus), ITV have decided to re-broadcast Euro 1996 in its entirety.
It was a tournament filled with memorable moments and stars, but also (it was the mid-90s, after all) some really visually interesting kits.
Crack open a can of nostalgia, we're ranking every kit of the tournament...
24. Russia (Home)
Is there anything really wrong about this Russia strip (above right)? Meh, no, not really.
However, this Reebok effort is a little bland for a team competing in their first-ever Euros as Russia and not USSR (who consistently boasted some of the sauciest garm about).
23. Russia (Away)
Different kit, but same story.
Pretty much a direct reversal of the home kit, this Reebok design isn't terrible but with such a high standard of competition at Euro 96, simplistic just won't cut the mustard.
22. Denmark (Away)
Much like the Russian kits, this near all-white design for Denmark is fine and has a nice retro feel, but for Hummel and the Danes it's a definite low point in their often glorious collaboration.
21. Switzerland
Lotto had a template for the tournament, which hasn't aged as well as others of the time.
No hipsters are paying big money for this Swiss kit on eBay to impress their mates down at five-a-side, are they?
20. Netherlands (Away)
It's a bold look from Lotto and the Dutch, but it didn't exactly pay off.
The fading colours on the shoulders (see also Switzerland above) has the potential to be a stunning design, but the patchiness around the shoulders looks like the work of one too many washes.
The little flags on the sleeves (and the fact that it's Netherlands) make it at least slightly more palatable than the Swiss kit.
19. Denmark (Home)
A kit associated with the supremely talented Brian and Michael Laudrup.
This design was actually a move away from the more extravagant kits the Danes had been donning in the years prior.
Like the Danes defending their Euros crown, it's just slightly underwhelming all in all...
18. Bulgaria
Perhaps a slightly conservative kit for the times, but not an altogether bad one.
Having reached the semi-finals of the World Cup just two years prior (wearing a beauty of a kit as well), the Bulgarians had high hopes coming into the tournament - but they weren't able to make it out of the group stages.
17. Czech Republic (Away)
While the Czech Republic also wore this kit for the group stage victory over Italy, it was most notably worn for the win over Portugal in the quarter-finals.
This kit will forever be associated with Karel Poborský, and his stunning winner against the Portuguese. The simple Puma design (similar to Bulgaria's) brings out the streaks of colour on the sleeves and shorts.
16. Turkey (Home)
Turkey did not hold back at Euro 96 with their kit - unlike in their football where they finished rock bottom of their group with a grand total of zero points from their three games.
This adidas home design was loud and very much of the times, with the white vertical stripes framing the falg and manufacturer logo in the centre.
It's almost a good kit.
15. Turkey (Away)
Remember when we said Turkey didn't hold back? Yeah. This.
14. Portugal
This kit was all about the subtle touches...at least by 90s standards.
The large embossed national crest may appear too much from close up, it is actually pretty inoffensive and adds nice detail to the jersey.
Of course, in typical Portuguese fashion, the deep red and green combine together nicely and conjure up images of a young Luis Figo.
13. Czech Republic (Home)
Worn by the Czech's at Wembley, this Puma kit was a pretty decent finalist.
A simple overall look, Puma's flair comes in the shoulder and shorts detailing, while the crest is as beautiful as Patrik Berger's long flowing locks.
12. England (Away)
One that will divide opinion.
For a while this was the most hated garment in England, summoning memories of a distraught Gazza and slump-shouldered Gareth Southgate.
In recent years - and following even more painful and humiliating international defeats - popular opinion on the kit has been revised.
Purely aesthetically though, it's... nice.
11. Spain (Home)
They don't make 'em like this anymore.
Look at that stripe, that badge, the grandad collar, the written out adidas logo! Yes, please.
10. Croatia (Away)
It's hard to really fault this design.
The classic Croatian chequerboard theme is visible on the shoulders, there is also a thin blue piping adding another element.
9. Scotland
It's hard to really imagine a shirt - or any item of clothing - being subtle and tartan at the same time. Yet, the Scottish managed to achieve that with their Euro 96 kit. It was stylish, it was smart, it was beautiful.
John Collins has never looked better.
8. Romania
This Romanian design was one of the more outlandish kits to be worn at Euro 96, but it worked.
The centralised badge is a beaut, framed by those blue stripes.
7. Netherlands (Home)
Another top that appears to be fairly standard at first viewing, but is actually quite the opposite. The typical orange jersey has a shadow graphic with a faded image of the Dutch side of 1994 celebrating at the World Cup (which they didn't win).
Is it tacky? Not for me, Clive.
6. Italy
Italy had a tournament to forget at Euro 96, but we shouldn't let this take away from their classic kit. This was actually the only Nike kit at the tournament, although it didn't even feature the swoosh on the shirt.
All in all, it's a glorious look though.
5. England (Home)
Critics will call this kit boring and therefore, but, as far as simplistic kits go, this is up there.
The white top doesn't mess around, with the number, badge and Umbro sign all centred down the middle of the top. The overlapping collar also adds another dimension.
4. France (Away)
France showed up to Euro 96 with two stunning adidas kits.
This away design sees the red and blue of the famous tricolore appear via the stripes on either side of the shirt.
3. Germany
Winners of the competition, Germany had a kit that was worthy of wearing in the final and lifting the trophy.
It oozed class, from the dark badge with the perfectly spaced stars to the light-coloured top, mixed with the subtle adidas lining. It was purposeful, and sure enough, the Germans did lift the trophy with it.
In terms of faults...erm, there aren't really any. Wunderbar!
2. France (Home)
Two French kits inside the top five, that's how good their designs were.
While the lateral stripes were a feature of several adidas kits of the time, they looked best in France's colours and the collar laces were a touch.
Le sauce.
1. Croatia (Home)
It's a kit that has become as familiar with the footballing world today as Brazil's yellow or Netherlands orange, but back in Euro 96, Croatia's red and white checked-design was revolutionary.
In Croatia's first tournament after gaining independence, the country opted to go with the original chess board look, replicating a key element of their new national flag.
In international football there has been nothing quite as unique since.
For more from Adam Aladay, follow him on Twitter!