Every Italy tournament win - ranked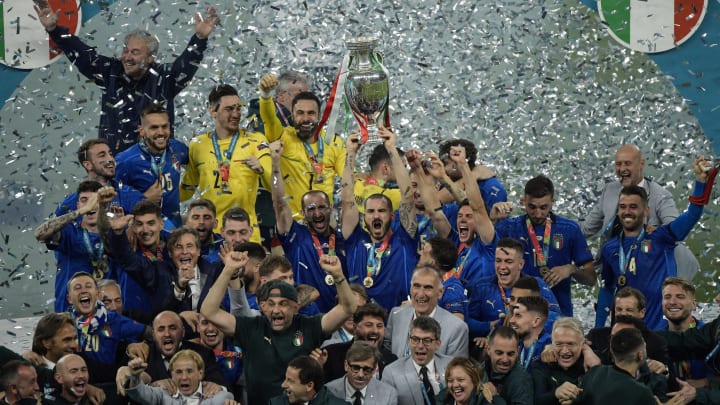 The reigning European champions / Insidefoto/Getty Images
For a population that loves pizza, pasta and tiramisu, Italians are unnaturally good at physical activity.
In fact, Italy is officially one of the most successful nations in football history, having won the European Championship twice, and the World Cup a whopping four times - only bettered by Brazil, the goats of our beautiful game.
The Azzurri's latest triumph came at Euro 2020, when they bested England on penalties in their own backyard, lifting the big trophy for only the second time. Roberto Mancini's men were the standout side in the competition, and deserved their success immensely.
But where does this memorable day rank in Italy's lengthy list of tournament wins?
---
6.

Euro 1968
I'm not being funny, but the Euros of the olden days - which began its final tournament at the semi-final stage - was not a really the big, prestigious deal it is today.

Case in point, Italy won a COIN TOSS to qualify for the final after drawing 0-0 with the Soviet Union in their semi.

The finale also ended in a draw, but at least Italy won the replay rather than relying on the luck of a coin again.

Oh and the whole thing was played in Italy, and everyone knows winning a trophy on home soil is basically a crime and renders all achievements defunct, right?

That's why England let Italy win at Wembley, I reckon...
---
5.

World Cup 1934
Similarly to Euro 1968, World Cup 1934 was held in Italy. Goodness, can't Italy win a tournament outside of their own country for once?! Spoiler alert: they can.

Anyway, after hammering the United States, who probably rocked up baseball bats in arms, unaware of the tournament they'd signed up for, Italy progressed beyond Spain and Austria before triumphing over Czechoslovakia in the final - in Rome, again.
---
4.

World Cup 1938
Four years later, Italy were world champions once again. This time they did it in France, beating Norway, hosts France, Brazil and Hungary to become the first ever defending champions.

The legendary Giuseppe Meazza was at the heart of their success, along with Gino Colaussi and Silvio Piola, who scored braces in the quarter-final and the final.

Memorable names, even in today's era of calcio.
---
3.

Euro 2020
Rightful winners / Robbie Jay Barratt - AMA/Getty Images
Recency bias aside, this will go down as one of Italy's greatest achievements, but not the best. The Azzurri and Andrea Bocelli kicked off the tournament in style, completing back-to-back 3-0 wins over Turkey and Switzerland, before ending the group stages without conceding a goal.

Mancini's men then sneaked past Austria, dug in to knock out one of the pre-tournament favourites Belgium, and broke Spanish hearts in a penalty shootout.

In fact, they enjoyed that final method so much, they decided to give England and their expectant home crowd the same treatment a few days later.

It's coming Rome!
---
2.

World Cup 1982
Paolo Rossi, Italy's hero / Alessandro Sabattini/Getty Images
This was a magical summer in Italy's history. As always, it was a story of heroes, when Paolo Rossi, returning from a two-year match-fixing ban, exploded on the world stage to fire his nation to glory.

After a rusty opening to World Cup 1982, he ended the competition with six goals, scoring a hat-trick against Brazil, a semi-final brace against Poland and the opener in the big final against West Germany.

He and his teammates went down in history as the first crop of Italians to bring home World Cup glory in the post-war era, writing their names into the nation's folklore for eternity.
---
1.

World Cup 2006
Legends / Shaun Botterill/Getty Images
Amid match-fixing scandals and a divided camp and country, Italy entered the 2006 World Cup with little expectation. The crop of players were not as revered as the 2002 edition, who felt they had been unjustly booted out of the tournament by South Korea and the Ecuadorian referee (now convicted drug smuggler) Byron Moreno.

Against all odds however, 2006 Italy ground their way to the semi-final, defeated hosts Germany with two injury-time goals in extra-time, and then overcame Zinedine Zidane and France to clinch the trophy on penalties.

From Francesco Totti's last minute winner against Australia, Fabio Cannavaro's Ballon d'Or winning displays, Alessandro Del Piero goal against Germany, to Fabio Grosso's decisive penalty in the final, this tournament run enjoyed some absolutely iconic moments.

And that's without even mentioning one Marco Materazzi...
---