The Switch
Every European Championship mascot - ranked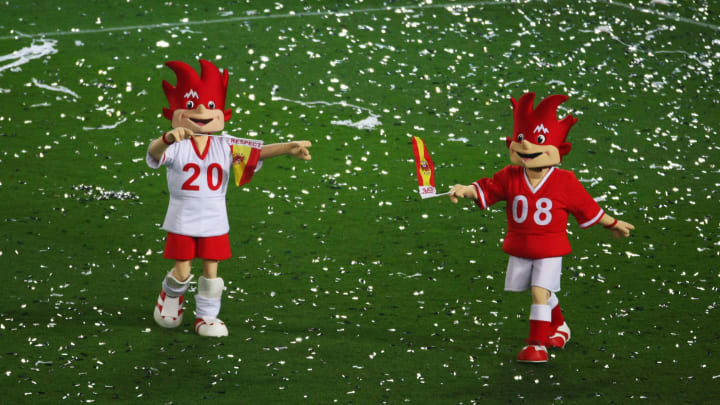 We've been treated to some great mascots down the years / Clive Rose/Getty Images
There are many things that go into making a great European Championship.
Dramatic upsets, world-class players and raucous supporters all play a role, but an oft overlooked factor is the tournament's mascot(s).
Ever since Italy introduced the concept in 1980, host countries have been trying to capture the public's imagination with their own cheerleaders.
Want to know which one is best? Of course you do. Luckily, 90min has all the answers.
---
11.

Euro 2020 - Skillzy
He's the one of the left by the way / Paolo Bruno/Getty Images
Terrible. He literally just looks like a normal bloke with bulbous eyes.

His name also sounds like a long forgotten member of the Soccer AM crew. Bin.
10.

Italy 1980 - Pinocchio
Italy deserve credit for kicking off the mascot craze in 1980. However, their effort was pretty pitiful.

The brief was clearly: "Just draw Pinocchio, but make it look nothing like the Disney one to avoid copyright. Oh yeah, add a football as well."
9.

Portugal 2004 - Kinas
Tekkers / Shaun Botterill/Getty Images
"Can we get a Simpsons mascot?"

"No, we've got a Simpson mascot at home."

The Simpsons mascot at home:
8.

England 1996 - Goaliath
This is an acceptable effort for sure. It is simple but effective. However, we just cannot shake the feeling that this is World Cup Willie's uncool younger brother.

Full marks for the world-class pun work on the name, though.
7.

Austria/Switzerland 2008 - Trix & Flix
Trix and Flix beat off competition from Zigi and Zagi and Flitz and Bitz, to earn their spot as Euro 2008 mascots.

Their reward? Starring in a music video with the one and only Shaggy. The song was one of two that the Jamaican superstar recorded for the tournament and unfortunately the other one is much better. This condemns Trix and Flix to seventh on our list.
6.

Poland/Ukraine 2012 - Slavek & Slavko
Imitation is the sincerest form of flattery and Trix and Flix received quite the glow up in 2012.

Their successors were Slavek and Slavko, who in a promotional video managed to make footballs grow on trees solely through the powers of their tekkers. Respect.
5.

France 1984 - Peno
It may look like the logo to a backstreet chicken shop that will 100% give you food poisoning, but we quite like it.
4.

West Germany 1988 - Berni
It is impossible not to love a smiling rabbit with a headband - particularly when that headband is personalised.

We reckon Berni would be a handy target man as well. Surely he has quite the leap on him.
3.

Sweden 1992 - Rabbit
Another floppy-eared baller in a nicer shirt. Rabbit just pips Berni with a place on the podium for giving the travelling England support the big'un.
2.

France 2016 - Super Victor
Super Victor set a new standard for Euro mascots. They even gave him an origin story revealed through a delightful, Pixar-style short film.

Also, he's super cute.
---
1.

Netherlands/Belgium 2000 - Benelucky
Wonderfully mad / Ben Radford/Getty Images
A controversial choice, but we don't care. Benelucky was selected out of 5,000 designs for Euro 2000, clearly catching the eye by being completely mad.

Part devil, part lion (the emblems of the Belgian and Dutch national teams respectively) and sporting a colour scheme usually reserved for a Wetherspoons carpet, it resembled some long lost Roald Dahl character.

Confusing yes, but also pretty magical. Plus, its mane looked really soft.
---