England
Met Police confirm 49 arrests after England fan unrest in Euro 2020 final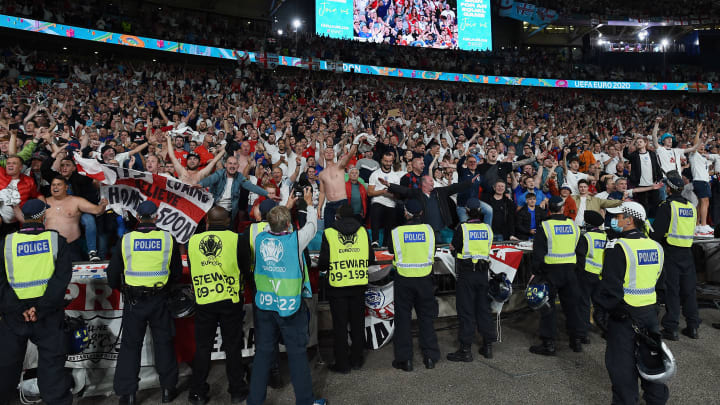 Police had their hands full at the Euro 2020 final / Paul Ellis - Pool/Getty Images
The Metropolitan Police have confirmed they have made 49 arrests in relation to the ugly fan unrest during England's defeat to Italy on Sunday.
Before the game, hundreds of ticketless fans stormed Wembley and forced their way through barricades and into the stadium, breaching COVID-19 rules and leaving some in the ground too scared to stay and watch.
There were countless reports of violence and there was even a pitch invader on what will have been England's test match for their bid to host the 2030 World Cup, which is almost certainly destined to fail after the chaotic scenes at Wembley.
Police were stretched to their limits during the day as they had to deal with incidents all across London involving thousands of supporters who had been celebrating the occasion since the early hours of Sunday morning, and a statement after the game confirmed the extent of the carnage.
"Thank you to the tens of thousands of fans who had good spirits and behaved responsibly. We made 49 arrests during the day for a variety of offences," the Met Police said on Twitter. "We will have officers on hand throughout the night.
"Frustratingly, 19 of our officers were injured while they confronted volatile crowds. This is wholly unacceptable. A big thanks to officers across London and our blue light colleagues for their part in keeping Londoner's safe and moving tonight."
The FA were also thoroughly unimpressed with the situation, calling those fans involved an 'embarrassment' to the nation.
"We strongly condemn the behaviour of a group of people that forced their way into Wembley Stadium before the EURO 2020 Final," the governing body said. "This is entirely unacceptable.
"These people are an embarrassment to the England team and to all of the true fans who wanted to enjoy one of the most important matches in our history.
"We will work with the relevant authorities to take action against anyone who is identified to have illegally forced their way into the stadium."