England Women Will Not Take Part in 2021 SheBelieves Cup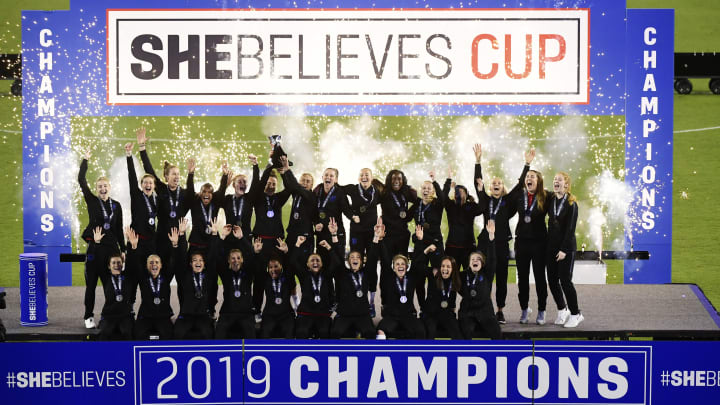 The FA have confirmed that England Women will not take part in the 2021 SheBelieves Cup due to a selection of technical and logistical difficulties with the tournament and the challenges presented by COVID-19.
The SheBelieves Cup is a four-team round robin invitational tournament, consistently made up of a selection of the top international sides in the women's game.
England have competed at the SheBelieves Cup every year since its inception in 2016, and are the only other nation - alongside hosts the United States - to have played in each of the five tournaments.
The Lionesses won the competition for the first and only time in their history in 2019, and this was seen as ideal preparation for the summer's World Cup in France.
However, the FA have released a statement to confirm that England will not be attending in 2021.
"The FA has taken the decision not to enter next year's SheBelieves Cup in the USA. England Women have been privileged to play in the tournament since its inception in 2016, challenging some of the best teams in the world.
"Our withdrawal from the competition in 2021 is based on existing uncertainties around the future trend of the COVID-19 pandemic, together with a detailed review of our technical priorities for England Women.
"The clear focus for our technical team will be to deliver an international fixture programme which provides the best possible performance outcomes for the Lionesses as we begin a crucial three-year period building to the home UEFA EURO in 2022 and FIFA Women's World Cup in 2023.
"News of the Lionesses' autumn fixtures will be announced in due course."
The SheBelieves Cup entails an intense fixture schedule, with three games in the space of a week, in addition to the demands of travelling across the United States for games in various locations.
The governing body added that these 'technical priorities' were more pivotal to their decision than the COVID-19 situation.
The FA added: "The travel and logistics around the tournament within what is a tight international window was no longer considered to be optimal for achieving our performance and technical objectives."