Women's Football
England Women's deaf team on fundraising efforts and Rose Ayling-Ellis impact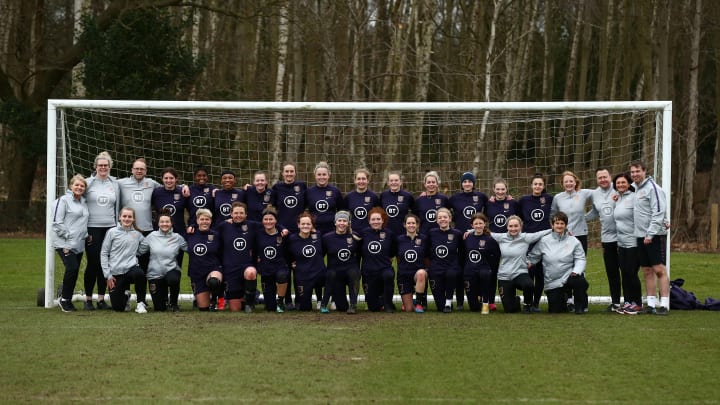 The England Women's Deaf team / The FA
The Bit Between Christmas and New Year is famed for its uneventful monotony.
The days are running into one another, the Quality Street is running low and the family small talk is running dry.
For Claire Stancliffe, the 2015 Bit Between Christmas and New Year saw her receive a £5,000 donation from a Premier League goalkeeper, enabling her and her Team GB teammates to attend the following summer's Deaf World Cup in Italy.
"I was at home just pottering around, and my phone went off and it was a £5,000 donation," Stancliffe told 90min. "I opened it up and it was Jack Butland.
"I couldn't believe it. But as soon as Jack had donated, my phone just went mental, there were loads of donations - I couldn't keep up with it."
At the beginning of December, the team had been informed that they didn't have the funds to go to the 2016 tournament. Having missed the World Cup four years previously for the exact same reason, Stancliffe decided to take matters into her own hands, setting up a fundraising page to get her team to Italy.
"I told the staff about it and they kind of just laughed at me, saying: 'It's not going to happen'."
By 30 December, thanks to Butland's donation, they had reached their £10,000 target. The team went to the 2016 World Cup and took home a bronze medal.
Lionesses Lucy Bronze, Fran Kirby, Jade Moore and Lianne Sanderson also helped with the fundraising efforts, alongside Welsh stars Jess Fishlock, Angharad James and Natasha Harding.
James Milner matched Butland's donation in the buildup to the tournament, while the following November Gary Neville donated £20,000 to help the GB team attend the 2017 Deaflympics.
"The fact that they've donated shows that we're all in the same position where we all love football and want to play at the highest level," said Stancliffe. "They saw that we needed help, and they did help us. It means so much to us because we looked up to people like that for a long, long time."
Just Giving pages are now a distant memory for the England Deaf team. The support they receive from the FA means they are no longer self-funded footballers, and the time and effort that had previously been spent on raising money can instead be focused on football.
"It just takes over your life, it's like another job," explains fellow England star Coco Briden of the team's former fundraising efforts. "We need to be training four or five times a week to get fitter and be at our best, and now we can do that, so it makes a big difference."
Briden typically spends her Sundays at Hackney Marshes playing for Hackney Women FC. Mud bath fields, collapsing nets, substitutes running the line - it's a quintessential grass roots Sunday League experience. Every couple of months she is whisked away to St George's Park, playing on the pristine, carpet pitches at the home of English football.
The last two years have provided unique challenges for the deaf community. The introduction of face masks due to Covid-19 has made communicating more difficult as this limits the opportunity to lip read - Briden revealed that she has adapted by learning to lip read people's cheeks.
However, the deaf community also saw mainstream visibility like never before during the winter of 2021 thanks to Rose Ayling-Ellis' triumph on Strictly Come Dancing. While Briden grew up in a deaf family, enabling her to immerse herself in the community from a young age, Stancliffe did not meet another deaf person until she was 18 - but the impact of Ayling-Ellis was felt by both of them.
"To see someone represent us on prime TV was just amazing," said Stancliffe. "For the younger generation it's fantastic, but also for the older generation who never had that role model."
"It's so good to have a bigger role model on TV to see that it's okay to be deaf," added Briden. "I work with deaf children, and on Friday one of my children said 'I hate being deaf.'
"I'm so proud to be deaf. I come from a deaf community and we have so many privileges and life experiences because of being deaf. My life is so rich because I'm deaf - it's a privilege. It's a beautiful language, a beautiful community. Any deaf person needs to be part of the community and be proud of it because it's something else."