England
England must use penalty pain to win 2022 World Cup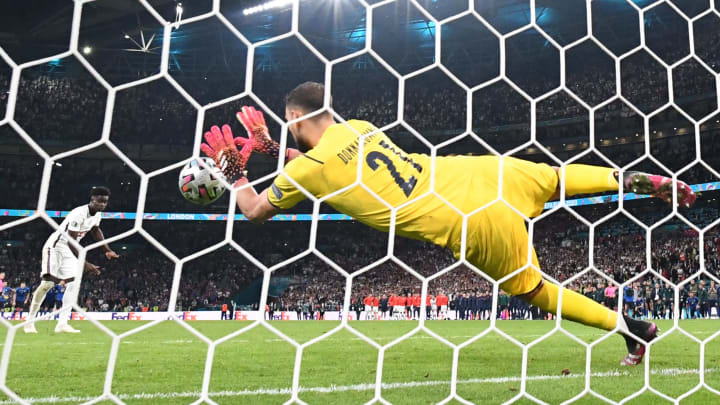 We still love you Bukayo / PAUL ELLIS/Getty Images
55 years of hurt and still...still...England is dreaming. 
It was all going so well. Remember that opening two minutes. Trippier's cross, Luke Shaw's violent finish. Pandemonium. Limbs intertwined like the world's biggest ever game of Twister. 
This wasn't an entirely fleeting high either. Suddenly prime English beef is everywhere, beating Italy to every second ball and unsettling the best midfield at the tournament. Even Giorgio Chiellini, who approaches big games with the relaxed confidence that normally only the first beer of summer can bring, looked rattled.
Luke Shaw's goal was a vibe / Marc Atkins/Getty Images
Then, it goes. Things settle. The Sweet Caroline's simmer down, the Atomic Kitten covers all but disappear and Roberto Mancini's side start to grow into the game. 
Then comes the drift. The ominous, gut-wrenching drift. The kind of drift that makes you feel physically sick. Suddenly Federico Cheisa is doing his generational talent schtick. Lorenzo Insigne has woken up as well while Marco Verratti and Jorginho are starting to do very special things with the ball. 
Eventually the inevitable sucker punch comes in the form of a scrappy corner goal. It's void of any aesthetic value, of course, but Italy doesn't care. They can smell blood and, let's be honest, for the next hour - half of it normal time, half of it extra time - Gli Azzurri look hungry. 
Eventually that second final whistle goes. Penalties. 
At this point, you can barely breathe. You think back to all the other times the Three Lions, some of them when you weren't even born.
Enjoy the Euros Italy, I hope they make you very happy / MARCO BERTORELLO/Getty Images
But what's this? Harry Maguire has just scored the best penalty of all time. The net nearly came off. He must have a foot like a traction engine etc. England are winning. We're winning. We're winning the Euros. Oh my goodness, someone hold me…
We won't bother reminding you what happened next. If you did miss it, never fear. You will get to relive the tragic events in every pre-tournament montage for the rest of your days. 
Then again, maybe you won't…
Maybe, just maybe, this is the motivational heartache that Gareth Southgate's brave boys need to finally overcome England's catastrophic underachievement at international level. That will certainly be what the staff and players will be briefing to the media over the coming days and, as they are clearly a special group, we might be inclined to believe them.
Football is littered with examples of teams doing exactly this. In 2014 Leicester City bounced back from the most heartbreaking playoff exit of all time, to record a then record Championship points tally. 
Just four years ago France did something similar, responding to the indignity of having a Swansea City rotational striker deprive them of the European Championships by romping to World Cup glory two years later. 
There is a precedent set and provided Southgate can be somewhat more reactive in big games - Italy's shutting down of his wing-backs in the second half was a big reason for them getting back into things - England could finally break their hoodoo in Qatar. 
This is a young team, a beautiful team both on and off the pitch. This does not have to be the end. Instead, it could be a sad but upsetting detour on their road to footballing immortality. 
---