Women's Euro 2022
England's Lionesses - Euro 2022 - Make Your Mark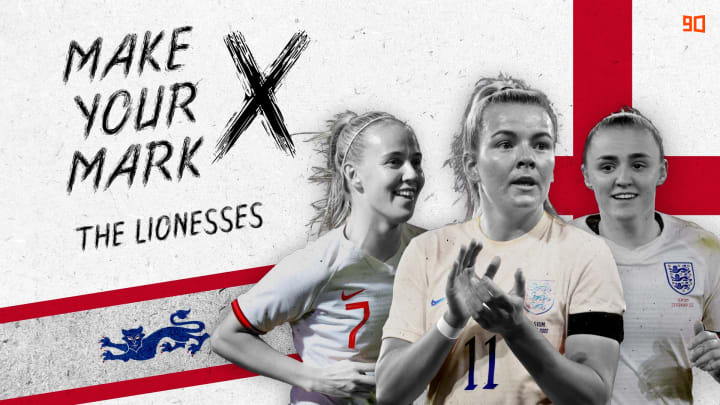 England - Make your Mark / 90min
90min's Make Your Mark series gets to the heart of what made footballers the players they are today.
Be it a family member, a coach, a team or a personality trait, someone or something down the line has been particularly key in a player's journey into professional football.
Ahead of kicking off their Euro 2022 campaign on home soil, the Lionesses sat down with 90min to discuss who or what has made the most influential mark on their career.
---
Hannah Hampton
Villarreal
"It's the first place that I ever kicked a football, and I didn't really know I was any good at it. If it wasn't for them, I wouldn't have continued the journey here right now and to say I'm off to a major tournament, I wouldn't have believed that as a little girl."
---
Lucy Bronze
Mum and Dad
"I will be writing my mum and dad. There's many times where people haven't maybe believed in me or supported me. My family have always been the ones who have been there for me and believed in me from the beginning."
---
Jess Carter
Determination
"I've written down determination and that's because I think there's been a lot of hard times and without determination you're never going to get to the top."
---
90min
Alex Greenwood
Family
"For me, they've been a massive part of everything I've achieved in my life, always supported me through the good and bad times."
---
Demi Stokes
Grit
"The word that I have picked is grit. The reason I've chosen that is just because it hasn't been smooth sailing but I think if you keep believing and keep your head down and work hard on what you want to become, you will eventually get there."
---
Rachel Daly
Family
"I wouldn't be the player I am today, I wouldn't even be near the player I am today if it wasn't for them."
---
---
Georgia Stanway
Sacrifice
"My family made so much sacrifice; my parents were committed to take me to training in order for me to just enjoy myself and try and fulfil my dreams."
---
Ella Toone
Astley and Tyldesley
"My first girls' football team and it just made me fall in love with the game. I made so many friends and I remember just going out and just enjoying football and that's when I really realised that this is what I want to do forever.
---
Chloe Kelly
The cages
"I've written the cages. Where I grew up, I was always playing football in the cages so that's made me the player I am today."
---
Beth Mead
Family
"My parents were a big reason to (why I am) where I am today. They drove me to every training session, to every game, every tournament that I went to, and my mum worked two jobs to pay for petrol for me to do that, so without them I wouldn't have done that."
---
Manchester City and England winger Lauren Hemp / 90min
Lauren Hemp
Belief
"For me, I've put belief. That's always a massive thing that has influenced the player that I am today. I think especially being a wide player, having the confidence to run at players even if other people don't believe in you then it's something that's important to have in yourself."
---
Alessia Russo
Family
"To me, family is everything, and a huge part of the journey that I've been on. My mum and dad committed to making the dreams happen so I think I owe it all to them, and hopefully there's lots more to come."
---
Ellen White
Hard work
"For me it's just the hard work, the dedication, trying to be the best trainer, the best person that I can. Within that comes a lot of hard work."
Beth England
Resilience
"This is mainly because I feel in my career there's been a lot of opportunities where I could have given up, but even when I've been knocked down, I've found a way back up."
---