England
England's goalkeeper options - ranked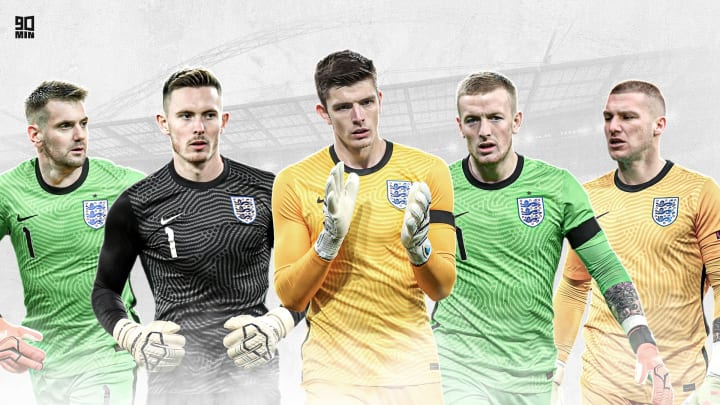 Some of the options available to England / Matt Burt/Minute Media
There's a famous old Nike advert which features Paolo Maldini and the tagline 'Italy's goalkeeper - easiest job in Europe'.
Unfortunately for England, they don't have Maldini marshalling the defence, and so it kind of matters who they have between the sticks.
The race is on to secure that number one shirt for the 2022 World Cup, but who are Gareth Southgate's frontrunners?
Here's 90min's totally accurate ranking of England's goalkeeping options...
---
12.

James Trafford
Trafford is one to watch out for / James Gill - Danehouse/GettyImages
20-year-old James Trafford joined Manchester City's academy set up in 2015 and then graduated to the first team in 2021. He hasn't represented City yet but he is now in his second loan spell with Bolton Wanderers.

He very much plays like a goalkeeper who has come through City's academy and knows that Ederson is the man to dislodge from the first team.

He's young, talented, 6'6 tall and could well find himself in the City first team in the next few years. He's also played at each England level between Under-17s and Under-21s.
11.

Tom Heaton
Heaton is firmly in the twilight of his career / MB Media/GettyImages
Poor Tom Heaton would surely have more than just the three England caps he's earned if the latter end of his career wasn't so injury-riddled.

He was always a reliable option for Burnley, before Nick Pope decided to stop being a non-league goalkeeper and become one of the most sprawling stoppers in the top flight.

A move to Aston Villa followed before again succumbing to fitness problems, and he is now back at Man Utd, where he is now one of the world's most impressive third choices.
10.

Etienne Green
Green plays in Ligue 1 / John Berry/GettyImages
Etienne Green used to rank higher on this list when he was the starting goalkeeper for French side Saint-Etienne (Yes, really), but they have since dropped a division and Green has been sharing the number one spot.

He still makes the list on account of only being 22, but his trajectory does not seem as high as it once did.
9.

Fraser Forster
Forster is the understudy at Spurs / Catherine Ivill/GettyImages
Once upon a time Fraser Forster was hailed as England's future number one goalkeeper.

An actual man-mountain, he arrived at Southampton from Celtic ready to jump into Joe Hart's sweaty gloves, but unfortunately he's only earned six international caps.

He basically didn't play a game for three years but was back between the sticks for Ralph Hasenhuttl's side during the 2021/22 campaign. However, his chances of a recall are much lower now he's agreed to be Hugo Lloris' backup at Tottenham.
8.

Sam Johnstone
Johnstone still needs to make his mark at Palace / Stu Forster/GettyImages
Had David de Gea not been a thing at Manchester United, there's every chance that we could be talking about Sam Johnstone as the Red Devils' number one right now.

A talented stopper who came through the Old Trafford ranks, he had to make his way in the game through a succession of lower-league loan spells.

Aston Villa was where he caught the eye, but it was a permanent switch to West Brom that allowed Johnstone to flourish. Since then though, he has signed for Crystal Palace and is the backup to Vicente Guaita.
7.

Karl Darlow
Darlow is second choice at Newcastle / Gualter Fatia/GettyImages
Newcastle's trials and tribulations have been well documented for a number of years, but one area where they've been pretty well stocked has been in the goalkeeping department.

Martin Dubravka was a surprise success story when he rocked up at St James' Park, and that often meant Karl Darlow - once of Nottingham Forest fame - was forced to watch on.

But after coming into the side, Darlow showed just how good he can be,
single-handedly keeping the troubled Magpies in a number of games with some outstanding saves. Sadly, he is pretty cemented as Nick Pope's deputy under Eddie Howe.
6.

Joe Hart
Hart has won over Celtic supporters / Quality Sport Images/GettyImages
Basically, we're just reminding you of the fact that Joe Hart picked up 75 England caps between 2008 and 2017 before his career suddenly nose-dived down the toilet.

After a year of mocking Tottenham Hotspur on the sidelines, Hart has finally found a loving home again north of the border with Celtic. He is number one there and just the fact that he plays every week puts him ahead of many others on the list.
5.

Alex McCarthy
McCarthy is approaching veteran status / Robin Jones/GettyImages
There used to be a time when you wondered if McCarthy could have done a little bit better for every goal Southampton conceded.

Thankfully, it's been a while since he's made any real errors between the St Mary's sticks, and has raised his level back to 'standard Premier League goalkeeper'.

After some injury issues, he is Southampton's number one again and is playing regularly.
4.

Dean Henderson
Henderson just missed out on the 2022 World Cup squad / Marc Atkins/GettyImages
After an impressive 2019/20 campaign on loan at Sheffield United, there were plenty of calls for Dean Henderson to usurp De Gea and become Man Utd's starting stopper.

Ole Gunnar Solskjaer spent the year switching between the two before giving the Englishman an extended run towards the end of the season - but he didn't make a lasting impression and has barely featured since.

Henderson has obvious quality and he's now playing well on loan at Nottingham Forest, Unfortunately for him, the 2022 World Cup came too soon for a call-up but he'll be playing again for England in the future.
3.

Nick Pope
Pope is a big unit at Newcastle / George Wood/GettyImages
When it comes to dependability, few can compete with Pope. He is incredibly consistent and has particularly caught the eye over the past three or four years.

Pope missed out on a place at Euro 2020 with an injury, but since returning he has looked back to his best despite being relegated with Burnley.

He's now the number one at a Newcastle United side challenging for the top four and that is why he is in the 2022 World Cup squad.
2.

Aaron Ramsdale
People aren't mocking Ramsdale these days / Ryan Pierse/GettyImages
After a nearly flawless start to life with Arsenal, Ramsdale came racing into the number-one goalkeeper debate.

He was mercilessly mocked for his role in Bournemouth and Sheffield United's relegations but has looked sensational for the Gunners and has distribution to rival Pickford's.

It doesn't seem like he will be number one in the immediate future, but he is pushing Jordan Pickford hard.
1.

Jordan Pickford
Pickford remains England's best goalkeeper / Visionhaus/GettyImages
England's best goalkeeper undoubtedly remains Jordan Pickford (imagine saying that with confidence at the beginning of the 2021/22 season).

The Everton man looked back to his best last season, putting in some top performances for club and country - even though results did not always follow for the Toffees. He has continued to play well in 2022/23 with Everton.

If England's attackers had done their job in the Euro 2020 final, then Pickford would have been hailed as a national hero after a tournament that was only rivalled by Gianluigi Donnarumma.
---