Early Signs Under Ronald Koeman Indicate Similar Tale for Antoine Griezmann at Barcelona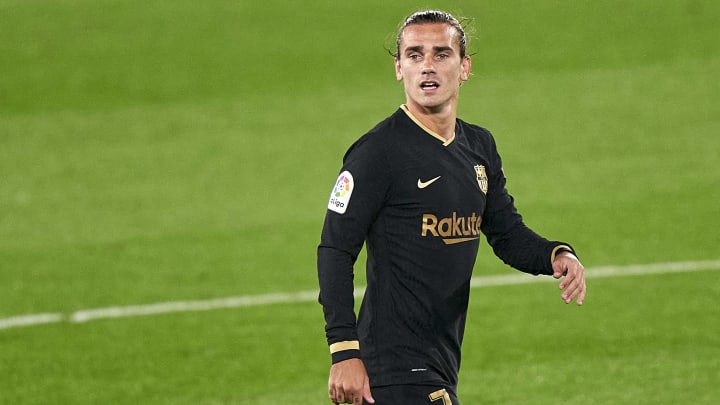 Antoine Griezmann is yet to make an impact this season / Quality Sport Images/Getty Images
Out of all the Barcelona squad - and there were a lot - who needed a managerial change ahead of the 2020/21 campaign, perhaps Antoine Griezmann tops the lengthy list.
Thrust out onto the left flank under Ernesto Valverde and frequently omitted by Quique Setien, it came to the surprise of very few that the Frenchman underwhelmed during his debut season in Catalonia despite his obvious talent.
Ernesto Valverde utilised the Frenchman on the left wing in his 4-3-3 / ANP Sport/Getty Images
It was never a harmonious systematic fit, with Griezmann - who thrived as a second striker at Atletico Madrid before his £108m move - being a player who enjoys operating in similar zones to a certain Lionel Messi.
Thus, finding a system which would allow the pair to co-exist efficiently was always going to be a tough ask. Perhaps Setien produced the best individual performance with a 4-1-2-1-2 at Villarreal after the restart, but that system proved unsustainable and overall, the Frenchman operated most effectively when serving as the central striker.
But as opposed to the man he was often standing in place of, Luis Suarez, Griezmann's a forward who enjoys dropping between the lines and functioning like a false nine. Unlike a peak Suarez, the 29-year-old isn't someone who loves making runs in behind opposition defences which meant he certainly contributed to Barça's distinct attacking flaw last term; a lack of outlets.
There were too many players wanting to do the same thing; receive possession between the lines, which meant La Blaugrana could easily be pressed - see that 8-2 defeat to Bayern Munich - and teams could comfortably condense the space for Barça's crafty operators to manoeuvre due to their minimal in behind threat.
The 4-2-3-1 is Ronald Koeman's poison / David Ramos/Getty Images
Griezmann's role has since changed following Ronald Koeman's arrival, mind. He now serves on the right of a midfield three behind false nine Messi in a 4-2-3-1 primarily because of his capacity to fulfil defensive duties diligently unlike other options, particularly Ousmane Dembele or the great Argentine.
And while there's no questioning his work rate and willingness to perform his role in the defensive phase, it's nonetheless clear that the Frenchman isn't a major contributor when Koeman's side have possession.
In Barcelona's three games under the Dutchman thus far, the left flank - where two outlets in Jordi Alba and Ansu Fati operate - has been a clear point of emphasis. 46% of Barça's attacks were directed down that side in the 4-0 rout of Villarreal, while only 26% went down Griezmann's right. Then, in the recent 1-1 draw with Sevilla, a mere 9% of Barcelona's attacking play went through the right flank which culminated in a grand xG total of <0.01%.
The returning Philippe Coutinho, meanwhile, has also enjoyed an influential start to life under Koeman in a number ten role, with the Dutchman handing the former Liverpool star plenty of freedom to roam from his position; often overloading the aforementioned left and rotating with the intelligent Fati.
Philippe Coutinho has enjoyed a fine start to the season / David Ramos/Getty Images
Regarding Griezmann, though, you wouldn't be too wide off the mark by saying he's almost serving as a functional cog in Koeman's machine. He's offering defensive diligence to nullify opposing threats but producing very little with the ball.
Admittedly, Griezmann would perhaps benefit from a more dynamic right-back option than Sergi Roberto overlapping down his flank, and this could be the case once Sergiño Dest settles in Catalonia.
Nevertheless, so far the 29-year-old's been hauled off in the second half against Villarreal and Sevilla in favour of Francisco Trincão and was sacrificed in place of centre-back Ronald Araujo before half-time in the eventual 3-0 victory over Celta Vigo following Clement Lenglet's harsh dismissal. This incident perhaps highlights Griezmann's damning status; in Koeman's eyes, he's the least important in the attacking triumvirate behind Messi. A trio containing a 17-year-old and a supposed flop.
So, how does Koeman go about the seemingly impossible and get the very best out of Griezmann at the Camp Nou?
Well, should the Dutch string-puller stick with the 4-2-3-1, surely he's best suited to Coutinho's current number ten role.
It's the sort of function he excels in for the national team, playing off Olivier Giroud, while the 29-year-old also established an impressive dynamic with Fernando Torres at Atleti playing as a free-spirited second striker. The issue, however, is that Barça are currently void of that profile of forward in their squad.
They have Messi and the Martin Braithwaite.
Overall, though, there's little doubting that deploying him in a central role - whether a number nine or ten - would certainly get the best out of him but he'll have to adjust.
Instead of being a perennial between the lines exploiter, he'll have to mix up his runs and become more of a 'runner' capable of penetrating in behind. He's already shown on occasions his capacity to combine wonderfully with Messi but this adaptation needs to take place otherwise the pair simply can't co-exist without compromising Barça's collective attack.
Finding a system in which these two can co-exist has proved mightily tricky for two - soon to be three - Barcelona managers / Alex Caparros/Getty Images
Ultimately, Antoine Griezmann's career appears to have arrived at a crossroads with next summer's Euros and the World Cup rapidly arriving the following winter. The early signs despite a fresh mind in the Camp Nou dugout suggest the Frenchman's fortunes will unlikely alter this time around and perhaps an eventual switch away from Catalonia is the only option to facilitate a renaissance.
But such is his unique profile, it'll be tricky, then, to find a destination which allows him to return to the scintillating form he displayed under Diego Simeone in the Spanish capital.