Diolch, Cymru: Welsh football's journey to ridiculous World Cup expectation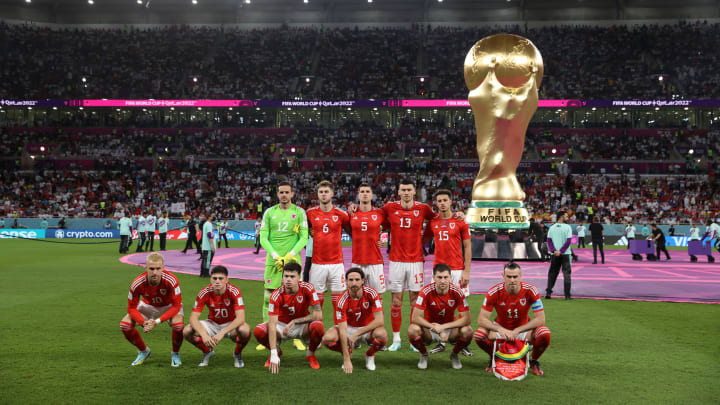 One of Wales' famous lopsided team photos / Michael Steele/GettyImages
From Qatar - Welsh players, staff and supporters fly home on Wednesday after competing in their first World Cup for 64 years. November 2022 was the first time in generations that this little nation, the smallest to qualify for Qatar, competed on the global stage with a spherical ball, in the world's biggest competition.
Ultimately, it hasn't gone to plan - far from it. Over three games the team failed to turn in displays those that follow the team have become accustomed to, and it's turned into a campaign of real disappointment on the pitch. There are more questions created than answers taken.
A 3-0 defeat to England on Tuesday night sealed a spot at the bottom of Group B, with no win to shout about over three games. The late loss to Iran was deserved, and the only spell of football remotely resembling what most know of Cymru came in the second half of a 1-1 draw with the United States in their opener.
What we saw in Doha was never going to be enough. There's a number of potential reasons for it - tactical decisions, team selections, lack of match fitness in senior players, injuries - perhaps a mix of them all. But as time passes and the dust settles, that disappointment and frustration most who follow Wales will feel in the immediate aftermath turn to reflection.
Not only reflection on how to move ahead, but reflection on the journey forged to this point.
The very fact that Welsh fans, and those involved with Wales came into this tournament expecting they would be able to qualify from a World Cup group is quite frankly ridiculous given the context. But it's a measure of how far a journey these players have taken their country on over the last eight to ten years that this is where the bar is was set.
It's an expectation worlds away from losing to literally Leyton Orient in 1996, from being humbled 5-1 at home to Slovakia in 2006, the defeats to Cyprus and Georgia in the 2000s and that famous 6-1 drubbing in Serbia just over a decade ago. Never mind the narrow World Cup misses at the hands of Scotland and Romania.
And while we see the stars of Gareth Bale and Aaron Ramsey inevitably fade with age, they and their teammates over the course of their international careers have transformed football in Wales. There's even a genuine argument for this now being the national sport - unimaginable a decade ago.
Even this writer's own personal expectations during the time spent in Qatar were for Wales to have a real shot of the last 16, only for frustration and even anger to grow upon seeing what was unfolding on the pitch. They're better than what they've shown the world between the white lines.
But what the world has seen is a team united with its fans and backed in even the most difficult of moments, the most Welsh of Welsh qualities. They've seen and been a part of a Red Wall which sang the world's greatest national anthem to their team at the most difficult of moments, they've heard the mother tongue spoken instead of English. The world has seen heard, seen, and felt Welshness.
---
Harry Symeou hosts Jack Gallagher and Toby Cudworth to look back on Germany '06 as part of the 'Our World Cup' series. We take a trip down memory lane - join us!
If you can't see the podcast embed, click here to download or listen to the episode in full!
---
Results and progress on the pitch were dreamed of in this World Cup, but Wales will have to settle with the small matter of successfully putting Wales on the map and inspiring the next generation to carry on the legacy that the country's greatest ever squad of players have created. Right now as I write this at an airport there's a young lad, can't be older than eight, carrying his bag into his seat in the airport lounge wearing an oversized bucket hat and a red shirt. That's what this was about.
The months ahead will be to plan what's next, and how this team transitioned into a new generation beyond Bale, Ramsey, Allen and co. But as for now, it's important to remember that now it's over, how crazy and unfathomable this journey to a World Cup has been.
And frankly, to say diolch. Thank you to these boys for making dreams come true.
---