Diogo Dalot sends Milan - and Man Utd - timely reminder with first ever league goal Dalot was on the scoresheet for Milan / Alessandro Sabattini/Getty Images
Milan supporters must have been secretly kissing their title hopes goodbye when their starting lineup was announced for Sunday afternoon's trip to Hellas Verona.
No Zlatan Ibrahimovic, no Simon Kjaer, no Ismael Bennacer, and no Theo Hernandez.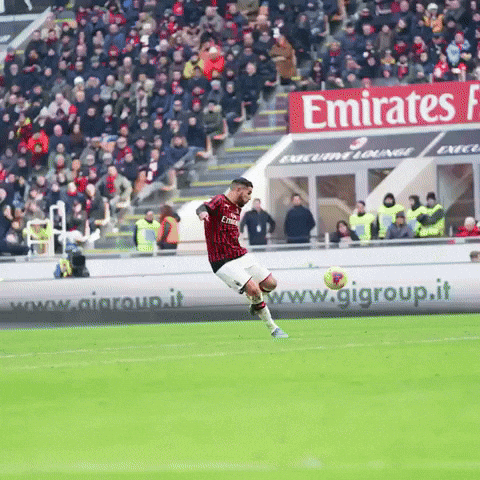 This final absence will certainly have been the most painful for I Rossoneri to accept. The rock and roll defender has become a superstar during his time at San Siro, arguably transforming into the best left back in Serie A.
Hernandez's explosive over and underlaps have been a trademark attacking move for Milan this year, and so when his name was replaced by that of the forgotten Diogo Dalot, fans began cursing their misfortune for this tricky Verona tie.
Instead, they were rewarded with a pleasant surprise - the most convincing display of 2021 with a threadbare squad, three points in a 2-0 victory, and a first ever league goal in Dalot's young and promising career.
The Manchester United loanee made sure Hernandez's absence was quickly forgotten on Sunday, beginning the game with extreme confidence and looking as reassured as a seasoned veteran. The 21-year-old settled into the rhythm of the match and flanked Alessio Romagnoli, which inadvertently brought out the best in his captain.
While Hernandez is undoubtedly a superior full back with a bigger impact on the team, it may come as little surprise that Romagnoli produced his most solid performance in months alongside the much more defensive-minded Dalot.
The French full back is a supporter's dream, but he's probably a fellow defender's nightmare. Hernandez leaves a lot of space behind him to exploit with his endless runs, and it may have contributed to Romagnoli's shaky displays.
So there was definitely more balance, if less dynamism to their defence.
That's not to say that Dalot didn't contribute in the final third - far from it, actually. The youngster popped up with the vital second goal of the match, drifting in-field and finding the ball at his feet on the edge of the box.
He shimmied and dummied to shake his defender and allowed the ball to roll onto his right foot before rifling a stunning pile-driver into the top corner.
The ball flew into the net, shocking the hosts and sparking bedlam among the visitors. Dalot himself could hardly believe it and he even had to check his pulse to make sure this wasn't all some mad dream.
That strike early in the second half was enough to hand Milan a commanding 2-0 lead, one from which Verona could not recover. Dalot and the rest of the defence stood firm as their typically penetrative opponents were unusually blunt in the final third, and they claimed three points to move within three of leaders Inter.
Checking to see if this is real life / MARCO BERTORELLO/Getty Images
As for their Portuguese star, it was a rare outing which he took full advantage of, dishing out a timely reminder that he can still contribute at both ends of the pitch ahead of I Rossoneri's clash with Manchester United in the Europa League on Thursday.
Whether he finds himself at San Siro or Old Trafford next season, Dalot will be hungry to nail down a starting place in either side and show everyone what he can do on a regular basis.