Karim Benzema
Didier Deschamps admits he will 'never forget' Karim Benzema's racism accusations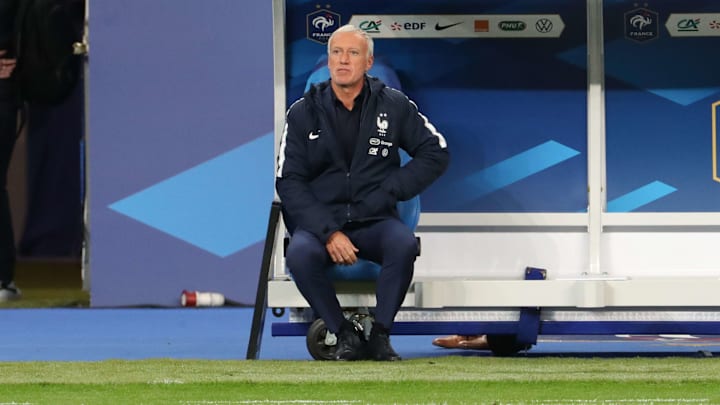 Didier Deschamps has exiled Karim Benzema / Xavier Laine/Getty Images
France manager Didier Deschamps has admitted he will never be able to get over comments from exiled striker Karim Benzema, who accused the boss of racism over his decision to freeze him out.
Despite being one of France's best strikers, Benzema hasn't represented his country since 2015, when reports emerged suggesting Benzema had been involved in a ploy to blackmail teammate Mathieu Valbuena - something he is soon set to face trial over.
While the official line from France has always been that Benzema's exile is because of that incident, the Real Madrid man told Marca in 2016 that he believed Deschamps had 'bowed to pressure from a racist part of France', suggesting that his Algerian origins were the actual reason for the decision.
Benzema has been accused of blackmail / Soccrates Images/Getty Images
"The comments left a stain," Deschamps told RTL. "Even if over time it calms down a bit, I cannot forget what was said.
"It is not related only to Karim Benzema. There are statements from other people who turned to violence, which also affects my family."
Deschamps' family home was vandalised in the summer of 2016, with those responsible writing the word 'racist' on a wall, and the France boss believes it stemmed from Benzema's unfounded accusations.
"When it concerns me, my choices as a coach, the tactics, the technical aspect, that's fine. It does not matter," he continued. "This crossed a line.
Deschamps believes Benzema crossed a line / Xavier Laine/Getty Images
"It affects my name, my family. For me, this is unacceptable. Saying certain things will always lead to verbal or physical aggression. I suffer the consequences. We cannot forget. I cannot forget. I will never forget."
The Versailles prosecutor's office confirmed that Benzema and four other people will soon stand trial on the charge of conspiracy to attempt blackmail, but a date for the proceedings has not yet been set.
The Real Madrid striker is said to have been approached by a childhood friend to encourage Valbuena to deal directly with the blackmailers, although he has consistently denied any wrongdoing.
---