Main Stories
The Deloitte Football Money League - 2019/20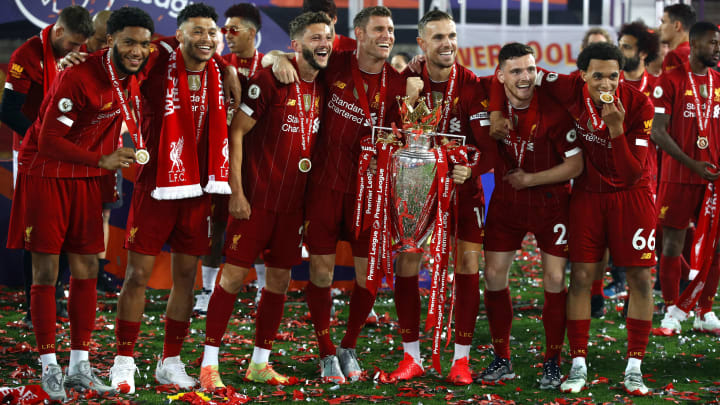 Liverpool's domestic success helped their revenue grow / Pool/Getty Images
The top 20 clubs in Europe generated a whopping £980m less in 2019/20 than in 2018/19, with the COVID-19 outbreak ravaging football around the globe.
Deloitte have put together their annual Football Money League, which offers an in-depth financial analysis of clubs' financial performances over the previous season in terms of generated revenue, and as you can imagine, it's not particularly pretty.
Let's take a look at the top 20.
---
20. Eintracht Frankfurt - £152.6m
Frankfurt are in the top 20 / Stuart Franklin/Getty Images
2019 revenue: £160.6m
Making their first appearance in the top 20 are Bundesliga side Eintracht Frankfurt, who were able to avoid too significant of a drop in income from 2019 to 2020.
---
19. Napoli - £154.6m
A return to the Champions League helped Napoli's cause / MB Media/Getty Images
2019 revenue: £182.8m
Despite a better performance domestically which earned them a spot back in the Champions League, Napoli saw their revenue drop by 15% because of the reduction in broadcast revenue.
---
18. Lyon - £158.5m
Lyon struggled in Ligue 1 / PHILIPPE DESMAZES/Getty Images
2019 revenue: £194.6m
It was a mixed year for Lyon, whose poor form in Ligue 1 left them needing to win the Champions League to get back into the competition this year. They made it to the semi-final, but that's where their dream came to an end.
---
17. Everton - £185.9m
Everton actually made more money this year / Clive Brunskill/Getty Images
2019 revenue: £185.5m
Everton's 104% growth in commercial revenue was higher than any other team managed in 2020, and that helped them actually make a marginal jump up in the standings this year, despite all the chaos around them.
---
16. Schalke - £195.4m
Schalke are on the decline / LEON KUEGELER/Getty Images
2019 revenue: £286.3m
Schalke were expecting to perform worse in 2020 after missing out on the financial boost that comes with European football, but then the COVID-19 pandemic made things a whole lot worse.
---
15. Zenit - £207.4m
Zenit made a nice jump up / MB Media/Getty Images
2019 revenue: £159m
Zenit are the only side outside of Europe's top five leagues to make it into the top 20, although that's helped by the facts that their records reflect the calendar year instead of the financial year, so they don't actually contain the impact of COVID-19.
---
14. Inter - £255.6m
Inter hope to boost their growth next year / Jonathan Moscrop/Getty Images
2019 revenue: £321.3m
2020 saw Inter end a lot of their commercial agreements - a decision which brings a short-term loss but hopefully a long-term gain - but a surprising growth in matchday revenue helped balance things out somewhat.
---
13. Atletico Madrid - £291m
Atletico had planned to make money through ticket sales / Denis Doyle/Getty Images
2019 revenue: £324m
Losing matchday revenue came as a huge blow to Atletico Madrid, who had recently upgraded the Wanda Metropolitano and had hoped to make some of that money back through ticket sales.
---
12. Borussia Dortmund - £320.7m
Dortmund improved in some fields / WOLFGANG RATTAY/Getty Images
2019 revenue: £327.6m
Dortmund managed to avoid a serious drop in revenue in 2020 thanks to small increases in both broadcast and commercial revenue, which helped balance out the obvious lack of ticket sales.
---
11. Arsenal - £340.3m
Arsenal's deal with Emirates helped out / Catherine Ivill/Getty Images
2019 revenue: £392.4m
Extending the sponsorship deal with Emirates and inking a fresh agreement with adidas did wonders for Arsenal, whose commercial growth of £31.7m is the second-highest on this list. That helped soften the blow of a £66.2m decrease in broadcast revenue.
---
10. Juventus - £349m
Juventus felt the loss of fans hard / Claudio Villa/Getty Images
2019 revenue: £405.2m
No team on this list recorded a higher drop in matchday revenue than Juventus' 36%, and the Serie A side are expecting things to get a little worse as their poor performance in the Champions League saw them miss out on a nice pay day.
---
9. Tottenham Hotspur - £390.9m
Spurs focused on commercial growth / Stu Forster/Getty Images
2019 revenue: £459.3m
The only club in the top ten to record a boost in matchday revenue in 2020, Spurs also made a tidy jump in their commercial income by hosting two NFL games, signing off on their Amazon documentary and inking a deal with HSBC.
---
8. Chelsea - £411.9m
Chelsea's summer of 2020 isn't taken into account / Catherine Ivill/Getty Images
2019 revenue: £452.2m
Chelsea avoided a major drop by focusing on boosting their commercial profile as extra sponsorship deals with the likes of Three and Duracell helped balance the books somewhat.
---
7. PSG - £474.1m
PSG made it to the Champions League final / Xavier Laine/Getty Images
2019 revenue: £560.5m
In what was perhaps their most successful season ever from an on-field perspective, PSG couldn't avoid a hefty decrease in overall revenue. A loan dished out by the Ligue de Football Professionnel, the governing body of French football, helped PSG cope with the lack of matchday income.
---
6. Manchester City - £481.6m
Manchester City's deep Champions League run is not counted / Alex Livesey/Getty Images
2019 revenue: £538.2m
Manchester City's final total does not actually include any prize for their deep run in the Champions League, which had to be extended beyond the end of the season because of the pandemic, so that will make for a nice boost in 2021's numbers.
---
5. Liverpool - £489.9m
Liverpool are back among the elite / Justin Setterfield/Getty Images
2019 revenue: £533m
Despite an 8% drop in revenue, Liverpool made it back into the top five of the Money League for the first time since 2001/02. Mental what becoming the best team in England can do for you.
---
4. Manchester United - £509m
United are the highest English side / Laurence Griffiths/Getty Images
2019 revenue: £627.1m
Manchester United's whopping 19% drop in revenue can be attributed to a loss of broadcast and matchday revenue, as well as another season outside of the Champions League. You can see why Ole Gunnar Solskjaer was so desperate to get back to Europe's top competition.
---
3. Bayern Munich - £556.1m
Bayern Munich were Europe's best team / Pool/Getty Images
2019 revenue: £581.8m
Recording just a 4% drop in revenue (the lowest in the top ten), Bayern Munich's Champions League triumph will be recognised in the next edition of the Money League, but that will be offset by Bayern's decision to forego some of their Bundesliga broadcast revenue to help out some of the smaller teams in Germany. How nice.
---
2. Real Madrid - £627m
Real Madrid enjoyed success away from the pitch / Juan Manuel Serrano Arce/Getty Images
2019 revenue: £667.5m
With broadcast and matchday revenues tanking, Real Madrid had to rely on commercial success in 2020. They extended their partnership with adidas and continued on the path to take control of their brand as a whole.
---
1. Barcelona - £627.1m
Barcelona are sitting pretty at the top / Soccrates Images/Getty Images
2019 revenue: £741.1m
Barcelona's 15% drop in overall revenue is the second-largest of any team in this list, with the club estimating to have missed out on £155m because of the COVID-19 outbreak. However, outside debts paint a bleak picture for the team topping 2020's list - all is not as it seems.
---