The Defining Moments in Milan's Impressive Unbeaten Run
Oct 10, 2020, 5:03 PM GMT+1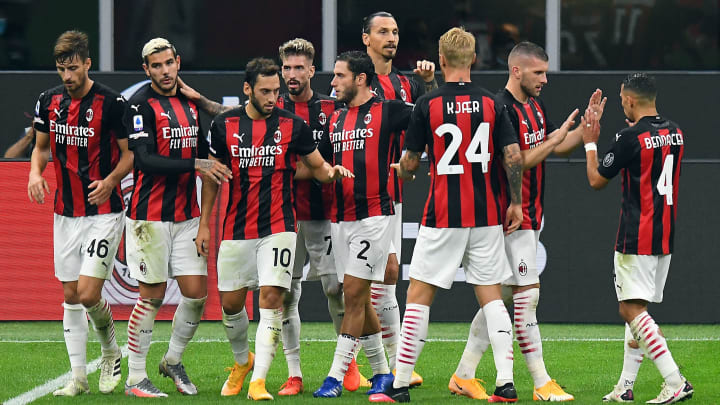 Fabio Capello's 1991/92 Milan side, a unit established by unItalian revolutionary Arrigo Sacchi, is undoubtedly one of the finest in the game's history.
With the foundations provided by the most imperious of defences and a scintillating core made up of a supreme Dutch triumvirate, the Rossoneri - Scudetto victors and two-time European champions under Sacchi - embarked on an unprecedented 58-game unbeaten run which would lead to their first of four consecutive Scudetti.
It's the longest streak of such kind in, well, ever, and it's one which makes the Rossoneri's current 19-game run without tasting defeat look pretty pathetic.
Nevertheless, there's no denying that a run akin to the one Milan are currently enjoying would've been viewed as nigh on impossible once Stefano Pioli took the reins from Marco Giampaolo last October.
Pioli's done a fantastic job, so much so that the Milan hierarchy opted against bringing in the genius mind of Ralf Rangnick in the summer in favour of maintaining the services of the former Fiorentina string-puller.
Thus, while club football takes a break, let's celebrate the Rossoneri's purple patch by casting our minds over some of the defining moments; the key additions, the much-needed alterations and, most significantly, the re-emergence of an identity.
1.

Zlatan Ibrahimovic Signs (27 December 2019)
The arrival of Mr. Humble on a free transfer was perhaps the defining moment in Milan's rise.

Raising the standards in the training and on matchday while scoring ten times in 18 Serie A games last term, Ibrahimovic's impact on Pioli's side was/is unrivalled.

From a tactical perspective, the 39(!)-year-old provides a focal point previously absent from San Siro since Ibra himself left town in 2012. He allows Milan to play efficient vertical football and also serves as an outlet through his unmatched hold-up play.

Against high-pressing sides and in games where Milan could perhaps be overwhelmed in the first phase, Ibrahimovic's presence is mightily significant as he provides teammates with a 'get-out' pass every time - serving a similar function to Romelu Lukaku at Inter.

It was only this bloody virus that was going to slow the immortal Swede down. He's 'cured' now, though...
2.

Double Pivot Established
It's hard to pin a date on this but it has to be included; Ismael Bennacer and Franck Kessie have struck a superb partnership in the middle of the park.

Their introduction and establishment in midfield could perhaps be described as a microcosm in Milan's overall rediscovery of an identity and Pioli's stumbling upon his best starting XI - something Giampaolo struggled to find.

Bennacer and Kessie complement each other wonderfully well. Both are impressive ball-winners and boast relatively similar skill sets, but both can fulfil either dynamic or positional roles, depending on the situation. They have a tremendous understanding.

While the Ivorian is more rugged and likes to penetrate opposition lines through determined - and chaotic - surges, the technically supreme Bennacer is immense at delivering line-breaking passes.

Milan's continuity in the double pivot has benefitted them massively, with balance finally discovered in Pioli's favoured 4-2-3-1.
3.

New-Found Defensive Steel (Juventus 0-0 Milan, 12 June)
Milan's first game after the restart would end in disappointing fashion as they exited the Coppa Italia on away goals to Juventus, but their stalemate in an empty Allianz Stadium would actually set the precedent for their superb spell.

Under Giampaolo - and immediately after Pioli took over - although their defensive record wasn't bad as such, they were certainly vulnerable. The Rossoneri were far from that against the Bianconeri, however, in what was one of the stoutest defensive displays by any side in 2019/20, and they did it at a man disadvantage for the most part.

Ante Rebic's brainless dismissal forced Pioli into a change in approach and his side sat in an incredibly compact 4-4-1 block in a bid to thwart the hosts.

The Rossoneri let absolutely nothing go through the centre, zilch. Paulo Dybala was forced wide, Cristiano Ronaldo was isolated while Milan's man-marking worked a treat. Simon Kjaer was outstanding.
4.

Ante Rebic's Rejuvenation (Milan 4-2 Juventus, 7 July)
Milan had seemingly left their aforementioned stoutness in Turin when Maurizio Sarri's Bianconeri rocked up at San Siro a month later for a Serie A clash.

The Rossoneri allowed Zinedine Zid--sorry, Adrien Rabiot to scythe through their midfield and finish with frightening ease before a horrible defensive mix-up allowed Ronaldo to double Juve's lead before the hour mark.

After that though, it was the Ante Rebic show.

The Croatian had already enjoyed a major resurgence under Pioli, scoring nine times in his previous 11 games heading into the Juve clash, but this appeared to be a celebration of his evolution in Milan.

Amid a remarkable and rapid Rossoneri comeback, the irresistible Rebic won his side a penalty, schooled Daniele Rugani which allowed Rafael Leão to hand Milan the lead before he swept home their fourth with an emphatic left-footed effort.
5.

Unleashing Theo Hernandez (Napoli 2-2 Milan, 12 July)
It was clear from the moment Theo Hernandez set foot in Milan following his £18m move from Real Madrid last summer that he was a sure bet to be a star.

Incredibly dynamic and boasting the attacking instincts of a seasoned winger, the Frenchman was the shining light amid Giampaolo's brief and torrid reign. He'd go on to register an impressive 11 goal contributions (six goals, five assists) in Serie A, with his strike against Napoli after the restart highlighting a key tactical trend of Pioli's Rossoneri.

It's a common concept typically associated with positional play: overload to isolate, essentially building-up possession down one side by committing plenty of bodies to that flank before switching the ball to the underloaded opposite wing - where the aim is to achieve qualitative superiority.

The Frenchman's opener against Napoli in July's 2-2 draw perhaps isn't a prime example, but the sequence encapsulated their emphasis on combining freeing forwards in the right half-space before delivering to the onrushing full-back who, on this occasion, finished unmarked at the back post from a Rebic cross.
6.

The Starkest of Contrasts (Milan 1-1 Atalanta, 24 July)
There's no better indicator of how far Milan have come under Pioli than their contrasting performances against the country's supreme entertainers.

Gian Piero Gasperini's Atalanta had blown away Pioli's side in their previous meeting, where their complex positional play and astutely drilled man-marking across the board overwhelmed a feeble Rossoneri in a 5-0 rout - their heaviest defeat in over 21 years.

This time around, though, the dynamic of the contest was completely different.

The hosts were able to mitigate the problems caused by La Dea's press by using their full-backs as primary outlets, while Ibrahimovic also supplied a simple target-man option to bypass the visitors' intensity.

Overall, Milan played with the sort of swagger you'd typically associate with their opponents. They were confident, fearless, free-spirited and incredibly resilient. Pioli's multi-faceted attack posed Gasperini's men plenty of problems throughout.

While the contest would end with the spoils shared, the game encapsulated Milan's evolution under Pioli and the Italian's impressive tactical nous.
7.

Character (Rio Ave 2-2 (8-9p) Milan, 1 October)
A little bit of luck. Plenty of character. That's how Milan got through this Europa League qualifier in Portugal.

Words can do very little to describe what was an absolute rollercoaster of a contest, even before we get started on what was the most enthralling penalty shootout you're ever likely to see.

Nevertheless, amid the monsoon, the Volkswagen Golfs in the background, the chaotic commentary and oh so satisfying sound of spot kicks hitting the back of the net, Milan triumphed after 24 penalties.

It was a contest - albeit against inferior opposition - that epitomised the Rossoneri's new-found mental fortitude. They needed a 119th-minute equaliser to send the game into a shootout in the first place and managed to snatch their 18th non-defeat on the spin from the jaws of defeat from the spot.

Rio Ave spurned three opportunities to win the game from 12 yards.