David Ginola: The Ringmaster of the Ultimate Entertainers' Circus
Sep 8, 2020, 11:45 AM GMT+1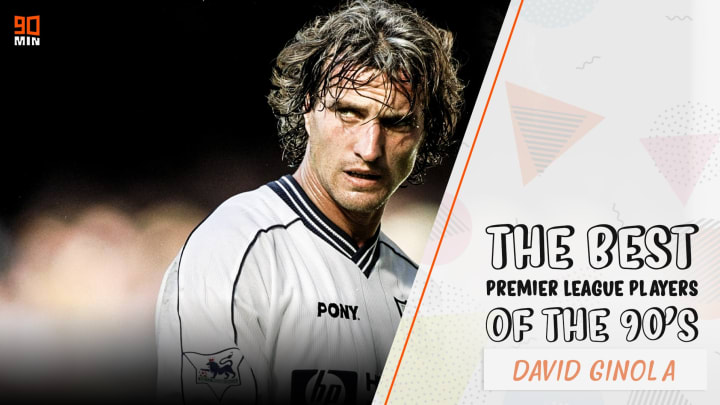 David Ginola signs for Tottenham Hotspur 1997 / Stu Forster/Getty Images
Fish and chips. Laurel and Hardy. Dick and Dom.
Some pairs were just destined to walk side by side. And then there was David Ginola and Newcastle United.
The year is 1995. Kevin Keegan is spearheading one of the most fearless and memorable teams in Premier League history, creating a side that would shape the future of English football forever.
Kevin Keegan was leading a revolution at Newcastle United / Mark Thompson/Getty Images
Newcastle swashbuckled their way to promotion back to the top flight in 1993, and hit the ground running on their return to the big time, finishing their maiden campaign in third place. The next season saw a slight dip in comparison to their previous heroics, and having lost the free-scoring Andy Cole to Manchester United in controversial circumstances, change was afoot.
The Magpies were heading into the 1995/96 season in need of a new goalscorer and a wide man to carry the charge once more, and they turned their attention to Queens Park Rangers' Les Ferdinand to lead the line.
Job done on the striker front, then. Next up, a bit of flair. Someone who could pick a lock, re-secure it and then pick it once more just for fun. An entertainer. A bit of sex appeal.
Across the channel, one of the most exciting forwards in Europe was making waves. Ginola had won the league title with Paris Saint-Germain in the 1993/94 campaign, scoring 13 goals along the way, and then fired les Parisiens to the Champions League semi-final the following year.
David Ginola of Newcastle United / Getty Images/Getty Images
The foxy Frenchman's performances against Barcelona in the quarter-finals particularly caught the eye, and when he announced his desire to leave his homeland, it was widely assumed that la Blaugrana would pick up the man who had proved their undoing only months prior.
Fate is a funny old thing, however. One team from the north of England, backed by the might and financial power of the Premier League, pipped a list of European giants to the signature of this much-sought-after and stylish superstar.
And all for £2.5m, too. Bargain.
But this is 1995, the internet is just about a thing, Youtube is still a glint in its creators' eyes, and foreigners are still greeted with a distrusting glare upon our shores. So, what were Newcastle gaining from this deal?
We can often understand the style of a footballer just by looking at them. A glance at Steve Bruce in the rearview mirror of your car from 100 yards away, and you'd know within a split-second that he was a no-nonsense centre-back.
David fell on the opposite end of the spectrum, however.
Pure, unadulterated talent. Just one look at the man told you everything you needed to know. Those bouncing, flowing locks, that chiselled jawline, those dark European features. He's gonna be trouble - but boy, he'll be worth it.
A sex symbol, he was a man who seemed more suited to a DJ booth or the front cover of Vogue. When he pulled on that iconic black and white Newcastle jersey, everything fell into place. Two worlds joined forces.
The Geordies, enjoying some of the most flamboyant football in their history, had just been handed the missing piece of the puzzle. Ginola encapsulated the exact spirit and ethos of Keegan's Magpies. Attack, outscore your opponents, and there'll be no need to defend.
It was more than just a licence to disregard defensive duties, though. It takes a true mental freedom and courage to not only absolve oneself from fear of failure, but to laugh in its face and stick two fingers up to the rules and social norms.
As far as natural born entertainers go, Ginola was one of the first to really strut his stuff on the Premier League stage. Trap him wide on the left flank with two markers in suffocating distance, and the ex-PSG man could wriggle free with a flick, trick or a drop of the shoulder. His devastating dribbling was what truly got bums off of seats, and his end product was equally as lethal.
When a player possesses this particular skillset, it usually leads to one thing: a legendary highlight reel. GInola scored some sensational goals during his career, with one of his best coming in a 5-0 demolition of Manchester United. Collecting the ball with his back to goal on the corner on the penalty area, the winger pinned his full-back, took one touch inside and arrowed a fierce drive into the far corner, leaving world-class goalkeeper Peter Schmeichel stranded.
Ginola produced a moment of magic against Ferencvaros / Getty Images/Getty Images
For many, his volley against Ferencvaros in the UEFA Cup was that bit more special. Lurking on the edge of the box, GInola saw a bouncing ball bobbling his way. Bringing it under his spell with his right thigh, the Frenchman quickly flicked it over the head of an onrushing opponent with a right boot, before lashing a vicious volley into the postage stamp with his left.
It was not just a goal of incomparable technique, but the vision, presence of mind and courage to try it in the first place provided the true genius of the goal. 'The Entertainers' didn't quite have enough to win a league title on Tyneside. Newcastle built a 12-point lead over Man Utd in the 1995/96 campaign, but their disregard for defending - which had made them so popular and successful - ultimately proved to be their downfall.
For all the momentary joy that carefree football provides, it scarcely wins you titles. Newcastle found this out the hard way. Ginola was a mirror image of the club: exciting, ambitious and bold. But that recklessness and free spirit has a ceiling in football.
Kevin Keegan the manager of Newcastle (left) with David Ginola / Shaun Botterill/Getty Images
The majestic winger never won the trophies that his talents merited. Having been caged by coach Kenny Dalglish following Keegan's departure, Ginola swapped Newcastle for Tottenham Hotspur, where he would go on to whip up an entirely new crowd into a fever pitch frenzy. His exploits won him the 1999 PFA Player of the Year award, and he also landed his first quantitative success in England, lifting the League Cup that very year.
When it comes to glorious goals in the Lilywhite shirt, one particular slalom against Barnsley in the FA Cup springs to mind. Collecting a pass wide on the touchline, Ginola darted beyond one tackle within two quick-fire touches, and had begun a trademark assault on the Tykes' goal. The forward danced through three challenges, avoiding desperate lunges with a shake of the hips and a classic shoulder drop. The controlled, calculated slot into the bottom corner was the perfect finish.
It was vintage Ginola.
At his best, he was one of - if not the - best in England. His maverick nature and laidback approach to the game may have come back to bite him on occasions, with France manager Gerard Houllier singling him out as the sole reason behind les Bleus' failure to qualify for World Cup 1994. And he was the least popular person on the pitch in the eyes of his own left-back, who was forced to do the defensive duties of two players.
That's the sort of leeway a genius deserves, though.
Newcastle and Spurs fans may not have any league titles to reminisce on during the wonderful 1990's, but they can sleep soundly at night, safe in the knowledge that they watched football as it should be played, depicted by one of the most gifted players to have ever graced our pitches.