Cristian Roldan explains the 'emotional rollercoaster' of winning CCL but failing in MLS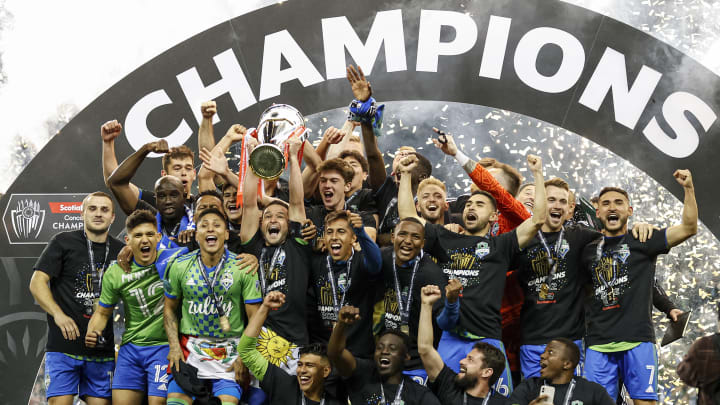 Seattle Sounders won the CCL, but failed in MLS. / Steph Chambers/GettyImages
The Seattle Sounders made history in 2022 by winning the Concacaf Champions League and becoming the first ever Major League Soccer club to lift the trophy. 
The Western Conference team defeated Motagua, Club Leon and New York City FC before reaching the much-anticipated final against Pumas UNAM.
Though the two-legged series saw the Sounders struggle with an initial 2-2 draw on April 27, Brian Schmetzer's side came back to  triumph 3-0 on May 4 for an overall 5-2 scoreline.
The team was on a high. 
"It was the greatest experience. It took a lot out of us to win the Concacaf Champions League. It was a trophy that hasn't been won by any MLS team," said Cristian Roldan in an interview with 90min. 
But then reality set in. 
Schmetzer's side immediately shifted focus to the ongoing 2022 Major League Soccer campaign, after neglecting regular-season action due to the demand of the Champions League. The team faced a string of negative results and low-table rankings, with 25 games left to be played. 
"Some of the difficult moments of last season came after the Champions league. The emotional rollercoaster of winning a trophy really early on is tough," added Roldan. 
"That's when it became tough. We had injuries to deal with due to the Champions League, and all the emotion and energy that we put into the tournament was difficult. We need to learn from that. In the locker room, we need to be more disciplined with our rules and regulations, have a balance and stay focused."
With a clear view on MLS, the Sounders improved. But though the team managed to win 10 of the remaining 25 matches, Schmetzer's side finished below the postseason line in 11th place with 41 points and a record of 12W-17L-5D. 
The reigning CCL champions had failed in the American league.  
"It was difficult for all of us as a team. We won a trophy so early on in the season, and think 'ok it's a successful season.' explained Roldan. "It was difficult on the boys and in the locker room. For us, we weren't able to come down from the emotions so that was something that we needed to focus on. When we are too high, not to be too high, and when we are too low, not to be too low."
The Sounders' situation forces a wider conversation within Major League Soccer about roster depth, and the ability for American team to balance competitions.
For now, the Sounders will compete in the FIFA Club World Cup, given their triumph in the CCL. This time around, the international competition will not interrupt MLS play this time around, with the final being played on February 11, 14 days before the 2023 campaign kicks off.
---