Confirmed Euro 2024 qualifying pots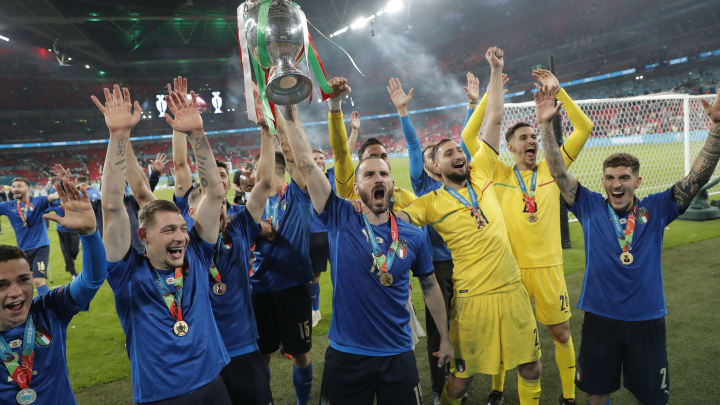 Italy are the current European Championship holders / Tom Jenkins/GettyImages
The dizzying international enthralment of the Nations League will soon give way to Euro 2024 qualification as teams look to succeed current champions Italy.
The World Cup in Qatar is a more pressing matter for most top nations this winter, but performances in the 2022/23 Nations League have shaped the routes teams will have to traverse to play in the next European Championship.
Here are confirmed pots for Euro 2024 qualification.
---
How are Euro 2024 qualifying pots decided?
UEFA sides compete in the Nations League and their seedings for Euro qualification are based on how they perform in the new competition.
The Netherlands, Croatia, Spain and Italy qualified for the 2022/23 Nations League finals and have been seeded together in a 'UNL Pot'. They will be drawn into Groups A to D, which only have five teams, so they can compete in the Nations League finals. The next six highest ranked sides are placed into Pot 1.
---
Euro 2024 UNL Pot
Netherlands
Croatia
Spain
Italy
---
Euro 2024 qualifying Pot 1
Denmark
Portugal
Belgium
Hungary
Switzerland
---
Euro 2024 qualifying Pot 2
France
Austria
Czech Republic
England
Wales
Israel
Bosnia and Herzegovina
Serbia
Scotland
Finland
---
Euro 2024 qualifying Pot 3
Ukraine
Iceland
Norway
Slovenia
Republic of Ireland
Albania
Montenegro
Romania
Sweden
Armenia
---
Euro 2024 qualifying Pot 4
Georgia
Greece
Turkey
Kazakhstan
Luxembourg
Azerbaijan
Kosovo
Bulgaria
Faroe Islands
North Macedonia
Euro 2024 qualifying Pot 5
Slovakia
Northern Ireland
Cyprus
Belarus
Lithuania
Gibraltar
Estonia
Latvia
Moldova
Malta
---
Euro 2024 qualifying Pot 6
Andorra
San Marino
Liechtenstein
Russia are ineligible following suspensions from FIFA and UEFA competitions after the country invaded Ukraine.
---
When are Euro 2024 qualification games scheduled?
Exact fixture dates will be confirmed after the group stage draw has been completed.
Matchday 1 - 23-25 March 2023
Matchday 2 - 26-28 March 2023
Matchday 3 - 16-17 June 2023
Matchday 4 - 19-20 June 2023
Matchday 5 - 7-9 June 2023
Matchday 6 - 10-12 September 2023
Matchday 7 - 12-14 October 2023
Matchday 8 - 15-17 October 2023
Matchday 9 - 16-18 November 2023
Matchday 10 - 19-21 November 2023
Play-off semi-finals - 21 March 2024
Play-off finals - 26 March 2024
---
Euro 2024 Nations League play-offs
If sides are unsuccessful in the main medium of Euro 2024 qualification, there will be the opportunity to reach the finals through Nations League play-offs.
Leagues A, B and C are all allocated one of three remaining tournament spots and four teams from each league that haven't already qualified for the Euros compete in the play-offs in their league. Places are first given to each Nations League group winner and then the next best-ranked teams in the league, depending on qualification status.
---
Who is hosting Euro 2024?
Germany will host Euro 2024. Hansi Flick's side subsequently do not have to go through qualifying and will be a seeded team in the group stage draw for the finals.
The only nation to rival Germany's host bid was Turkey, though they only earned four votes to Germany's 12 with one abstention.