Chelsea FC
Chelsea 2012 vs Chelsea 2021: Which Champions League triumph was better?
May 31, 2021, 2:50 PM GMT+1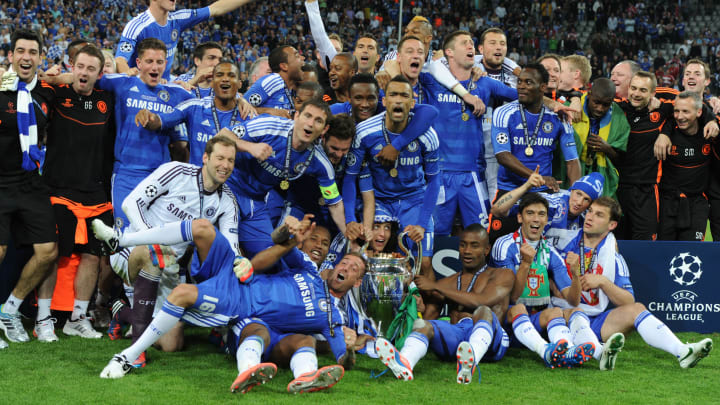 Chelsea celebrate their Champions League win in 2012 / CHRISTOF STACHE/Getty Images
Chelsea are now the only team in London with TWO European Cups, and it feels damn good to say that.
The Blues shocked the world in 2012 when they first roared to the ultimate glory, before Thomas Tuchel masterminded another surprise by taking Chelsea back to the top of the mountain just four months after joining.
Both runs to glory will live on forever in Stamford Bridge folklore, but it's time for us to answer the question nobody was asking - which was better?
Team performances
Chelsea were so tough to beat / Glyn Kirk - Pool/Getty Images
It's no secret that 2011/12 Chelsea just weren't very good. Under Andre Villas-Boas, they slowly began to slip away from the top four in the Premier League and they never bounced back domestically under Roberto Di Matteo. They were by no means bad, but they finished sixth for a good reason.
2020/21 Chelsea, as a unit, were incredibly impressive at times. Tuchel set his side up with outstanding tactical knowledge and gave Chelsea an identity. They became seriously tough to beat and neutralised some of the game's top sides en route to glory.
If you put the two teams against each other, 2020/21 Chelsea would probably come out on top.
Winner: 2021
Individuals
2012 Chelsea had some of the game's greatest players / GLYN KIRK/Getty Images
This is where Di Matteo's men shine.
2012 had Didier Drogba, Frank Lampard, John Terry, Petr Cech, Ashley Cole, Branislav Ivanovic, Gary Cahill and a disgustingly creative Juan Mata. It was the spine of a dominant team which, for some reason, didn't actually lead to a good team.
Tuchel's Chelsea features some stars, with N'Golo Kante and Thiago Silva the two world-class names, and they're surrounded by big players like Mason Mount, Cesar Azpilicueta and Antonio Rudiger. It's a good squad, but it doesn't have the individual power of 2012.
Winner: 2012
Manager
Tuchel was the brains behind Chelsea's success / Matthew Ashton - AMA/Getty Images
No disrespect to Di Matteo here, but his tactical prowess was not the reason for Chelsea's triumph in 2012.
The Italian would often lean on the big names in the squad to will the team to glory, asking Lampard, Drogba and Terry to ready the troops while he acted more like a cheerleader. In his defence, it worked.
Tuchel, however, has turned an average team into a great one because of his system. The German's tactics have proven to be unrivalled thus far, and their Champions League triumph is almost entirely down to him.
Winner: 2021
The occasion
Everything about 2012 was perfect / Ian MacNicol/Getty Images
This 2021 run was fun. We saw a Chelsea side who few expected to win the competition consistently prove to be better than every team they faced, and while the knockout opponents weren't as scary as they could have been, Chelsea did still have to beat La Liga's top two sides and dispatch of one of the pre-tournament favourites in the final.
But it didn't hold a candle to 2012.
There were storylines everywhere you looked in that run. The outstanding comeback against Napoli, the hard-fought win over Barcelona, Fernando Torres finally coming good (side note: ooooooooooooooh unbelievable), overcoming the odds against the Bayern Munich juggernaut and Drogba winning the trophy with what was almost his last kick of a ball for the club.
2012 meant more to fans because they were closer to the team than they are in 2021. Drogba, Lampard, Terry and the gang are among the most popular players in club history, so to see them lift the big trophy all together was something special.
Oh, and the fact that it cost Tottenham a spot in the competition in 2012/13? Priceless.
Winner: 2012
Results
Chelsea breezed through the competition / Visionhaus/Getty Images
2012 Chelsea limped through the group stage, with Villas-Boas' side winning just three of their matches and then getting thumped 3-1 by Napoli in the first leg of the last 16.
Under Di Matteo, they staged an outstanding comeback against the Italians before dispatching of an average Benfica side and clinging on for their lives against both Barcelona and Bayern. Yeah, they didn't lose against those two giants, fair play, but it was not convincing at all. Chelsea could have lost any of those games by seven or eight, but managed to survive all three.
Fast-forward nine years and Chelsea were actually in control of games. Lampard went unbeaten in the group, before Tuchel took control and eased to victories against Porto, Atletico and Real Madrid. Chelsea were dominant against Spain's top two teams, which shouldn't be taken lightly.
In the final, Chelsea were again the better team. They were comfortable against Manchester City and deserved their win, just as they deserved them in the knockout stages. Tuchel's team were better than all of their opponents, but the same can't be said of 2012 Chelsea, who rode their luck in each and every match.
Winner: 2021
Verdict
2012 just hit different / Ian MacNicol/Getty Images
You'd have to say 2021 Chelsea deserved their success more, but 2012 just had something so special about it.
The underdogs rose to every challenge with so much drama, creating some of the best highlights and moments in competition history, and the fact that it was such special players works in its favour too. A group of club legends were having the time of their lives and gave the fans the most incredible run in the process.
2021 Chelsea are probably better, but we don't care. 2012 was a work of art. It will always be remembered more fondly, and deservedly so.