Bundesliga Set for Behind Closed Doors Return After Government Approve Late May Restart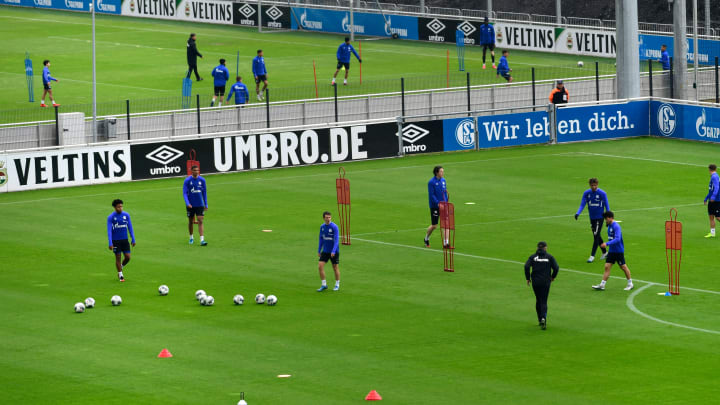 FBL-GER-BUNDESLIGA-SCHALKE-TRAINING-HEALTH-VIRUS / INA FASSBENDER/Getty Images
It's the news we've been longing to read... Football is coming back!
The Bundesliga is set to become the first major European league to return to action this month, after the German government confirmed that the football calendar will be allowed to restart in May.
German football was brought to a halt in mid-March, after the coronavirus began to take hold across the country. The nation has managed to control the fast-spreading virus with much more success than other countries, recording 150,000 cases and around 6,300 deaths.
Merkel Speaks To Media Following Conference Call With States Leaders During The Coronavirus Crisis / Sean Gallup/Getty Images
And almost two months after the fixture list had been postponed, it is set to make a long-awaited return, with German chancellor Angela Merkel giving football the green light from the third week of May, as reported by Sky Sports.
Matches will be played behind closed doors, the government confirmed, as they continue to take as many precautions as possible whilst reintroducing the fixtures. The exact date of the comeback is unknown as of yet, but both the top two divisions in the country will be allowed to take to the field in a matter of weeks.
The Bundesliga's plans have been placed under the microscope in recent days, after top-flight side Koln confirmed that three of their players and staff had tested positive for the coronavirus, although they were confident it wouldn't be a problem, given it had been caught relatively swiftly.
On top of that, Hertha BSC and ex-Chelsea star Salomon Kalou has been suspended for flouting the social distancing rules, after shaking hands with a teammate and interrupting a medical check of another player.
TSG 1899 Hoffenheim v Hertha BSC - Bundesliga / TF-Images/Getty Images
And there are concerns in the second division with outfit Erzgebirge Aue, after the entire team was put into isolation after a staff member tested positive for the virus.
The news of football's return in Germany may come as a shock to their neighbouring countries Holland and France, who have both cancelled the 2019/20 season, with no end to their ban on public events in sight. The world will be keeping a close eye on how the situation unfolds in Germany over the coming weeks.
But for now, football is on its way back.