Bruno Fernandes Reveals His Favourite Manchester United Teammate (Kind of)
May 24, 2020, 9:29 PM GMT+1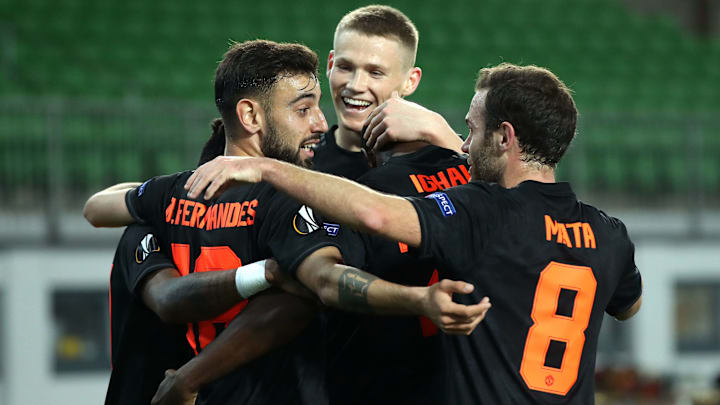 UEFA - Handout/Getty Images
Bruno Fernandes has revealed the one Manchester United player he would like to be isolated with if given the choice, and unsurprisingly, it's not Jesse Lingard.
In fact, it's probably the one United player any of us would choose: noted good guy Juan Mata.
As far as Bruno is concerned, however, it's not the Spaniard's company that would be of value; it's his mild obsession with the 'Bruno' song that has become a staple at Old Trafford ever since his move from Sporting CP.
When asked by the Manchester United website as part of a Q&A, he said: "I would choose Juan, because if I isolate with Juan I can listen to my song all day, every day! He always sings it to me! It's not the atmosphere of Old Trafford, but Juan is the kind of guy who puts all his heart in the song, so when he sings the music for me is really nice!
"Normally I arrive before him, and he comes at breakfast, gives me his hand and starts to sing the song – Bruno, Bruno, Bruno!"
When asked who he's been speaking to most throughout lockdown, however, his answer was less straightforward.
He added: "It's good because you can see everyone and talk with everyone but normally I talk with Juan, Diogo Dalot, of course, because he is Portuguese and we talk a lot. But I talk with David De Gea one time, with Tim Fosu-Mensah also, I don't know! I don't remember now.
"With Fred also I talk, with Nemanja Matic sometimes. I talk with Jesse Lingard on Instagram, because I comment on everything on his history."
Fernandes wasted no time in hitting the ground running after his January move, and has directly contributed to seven goals - three goals and four assists - in just nine appearances so far.
If and when the English football season resumes - mid-June the current target - he will be keen to pick up where he left off on that front, and help United bridge the three point gap to Chelsea and the top four.
For more from Robbie Copeland, follow him on Twitter!