Major League Soccer
Bruce Arena praises Matt Turner for 'remarkable' performance against New York City FC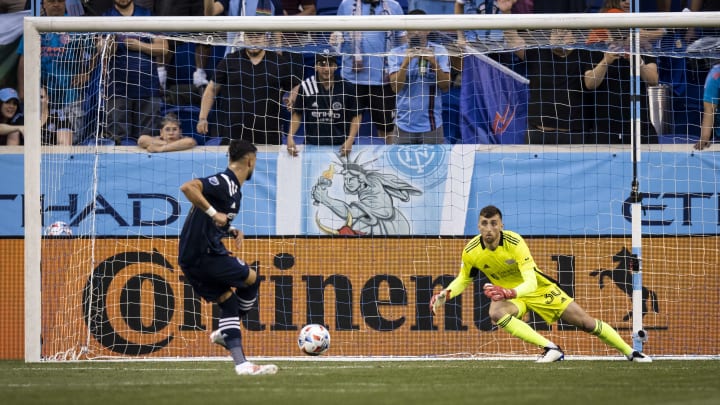 Matt Turner saving the penalty from Valentin Castellanos during New England Revolution v New York City FC / Ira L. Black - Corbis/Getty Images
New England head coach Bruce Arena commends goalkeeper Matt Turner for his "remarkable" performance against New York City FC. The former USMNT head coach boasted about Turner's gradual improvement over the last months, becoming one of the best goalkeepers in Major League Soccer in the process. 
Turner has been a consistently brilliant for the Revolution so far this season, but his performance in the Revolution's win over NYCFC was arguably the best of his career to date. The young goalkeeper made seven saves in the match, including a well taken penalty kick by Valentin Castellanos in the 12th minute. Turner also made a spectacular stop in the 91st minute after Maxi Moralez attempted to rocket a shot into the goal. 
"He's improved greatly," Arena said of Turner on his Monday video call. "He continues to improve, he works real hard, he's a good student of the game, a great person. He had a remarkable game in New Jersey the other night. We're excited the way he's progressing as a goalkeeper. I like to believe with goalkeepers that they win you some games and don't lose you any, and that's the case with Matt Turner. Matt never loses a game and often wins us some games, so over a season that's a real plus for a team."
The performance against New York City FC earned Turner the title of MLS Player of the Week for week eight of the 2021 season. Despite league success, the young goalkeeper has his eyes set on international dominance. With the Gold Cup around the corner and the provision roster out for the United States men's national team, Turner hopes his MLS performance was enough to impact Gregg Berhalter. 
"Obviously until the roster is finalized I'm not gonna count my chickens before they hatch because I thought maybe I was going to go earlier in the year with the team and that didn't happen, so I'm done getting my hopes up. My focus is here now. All I can really do is focus on every single day, just being present," Turner said. 
"In terms of the national team, yeah, I'd love to play in the games in the Gold Cup, I'd love to have a run of games like that to really show my stuff rather than a one-off game here or there, get the American fans excited about what I can offer up.
"I understand that it's a pretty crowded depth chart, guys are making moves and separating themselves from the pack and hopefully I'll be able to get a chance to make my case and when the opportunity comes, be ready to take it."
The final USMNT roster has yet to be finalized as the tournament approaches. The United States kick off on July 11 in Kansas City. 
---