Brentford players announce they will no longer take the knee before matches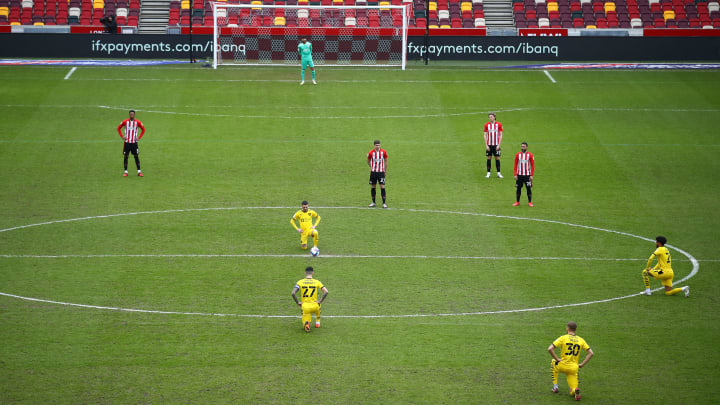 The Bees did not kneel before their game against Barnsley / Bryn Lennon/Getty Images
Brentford have announced their players will no longer take a knee before kick off, as it is not 'having an impact' on stamping out discrimination in football.
The pre-match gesture was started back in June in solidarity with the Black Lives Matter movement and was repackaged as part of the Premier League's No Room for Racism campaign this season.
Players have been kneeling before games since the summer / Richard Heathcote/Getty Images
Despite the initiative, racist abuse of footballers has spiked of late with Swansea City's Yan Dhanda, Manchester United's Axel Tuanzebe and several other players all receiving hateful messages on social media recently.
In response to this, Brentford have decided to stop kneeling before games, releasing the following statement from the squad: "As a group of players, we have decided we will no longer take a knee before the start of matches. This will begin when we face Barnsley tomorrow, Sunday 14 February.
"This decision has come after lengthy discussions as a group. We have been taking a knee before games since June but, like many of our fellow players at other clubs, no longer believe that this is having an impact. We believe we can use our time and energies to promote racial equality in other ways.
"As a group we are fully behind and proud of Brentford's desire to become the most inclusive club in the country and the drive towards equality under the #BeeTogether banner. We have experienced racist abuse first hand and have also seen some appalling comments made to other players past and present.  There is a clear need to continue to push for an end to all discrimination and, as players, we will be part of that at Brentford FC, in football in general and in the wider community.
"Togetherness is one of our key values as a group and plays an important role in helping us move towards reaching our goals. Racism is the opposite of what we stand for. As players we will show our commitment to Togetherness and racial equality on and off the pitch between now and the end of the season, and beyond. We will also support our colleagues at other clubs that still want to take a knee before games."
The Bees are not the first team to voice opposition. Back in September, QPR announced that their players would not kneel in a game against Coventry over fears that the message was being diluted. Some Millwall fans also controversially booed their squad for taking the knee in December.
---