FC Barcelona
Ilaix Moriba left out of Barcelona's pre-season tour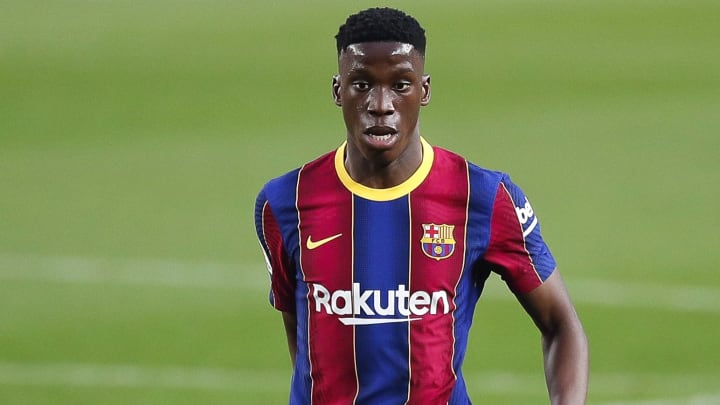 Ilaix Moriba remains banished by Barcelona / Eric Alonso/Getty Images
Ilaix Moriba has been left out of Barcelona's pre-season tour as the stand-off over his expiring contract drags on.
Barça have warned the highly rated 18-year-old that he will be banished to the reserves, or even the academy, if he continues to refuse to extend his deal, although there had been some optimism that he could still head to Germany with the rest of Ronald Koeman's squad.
However, the fact that he has not travelled to Germany suggests things aren't as rosy as perhaps the club had hoped, and according to Marca, those reports of a good feeling over Ilaix's future are wildly wide of the mark.
We had heard that fresh talks between Ilaix and Barcelona had seen the difference between the two sides shrink dramatically, but this latest report states otherwise. As the story goes, those negotiations only amplified the distance between the two.
Barcelona and Ilaix are still 'very distant' and have 'strong disagreements' over an extension, and it is suggested that the main problem is the teenager's wage demands.
Ilaix featured 18 times for Barcelona last season, increasing his status as one of the most exciting young players in world football, and it is claimed that he is keen to be financially compensated for that at a time at which teams from across Europe are willing to pay up to sign him.
Chelsea and Manchester United have long been linked with Ilaix and could undoubtedly offer him a higher salary that Barcelona, whose focus is on cutting costs this season in an attempt to re-sign Lionel Messi.
Moriba's wage demands are said to be problematic / Quality Sport Images/Getty Images
Barcelona have tried to reach a compromise with Ilaix but have warned him that they cannot meet his current demands, and unless he agrees to a lower salary, he will be nowhere near the first team and could be left to rot for the next 12 months.
Talks between Barcelona and Ilaix are expected to continue in the coming days, and it is stressed that the relationship between the two is not broken, but there is a long way to go before this situation resolves itself.
Whether Barcelona would look to sell Ilaix later in the summer is unclear, but it's hard to imagine them allowing the teenager to walk for free when there are plenty of sides willing to pay a not-insignificant sum to sign him right now.