Barcelona request delay on 'imminent debts' amid threat of bankruptcy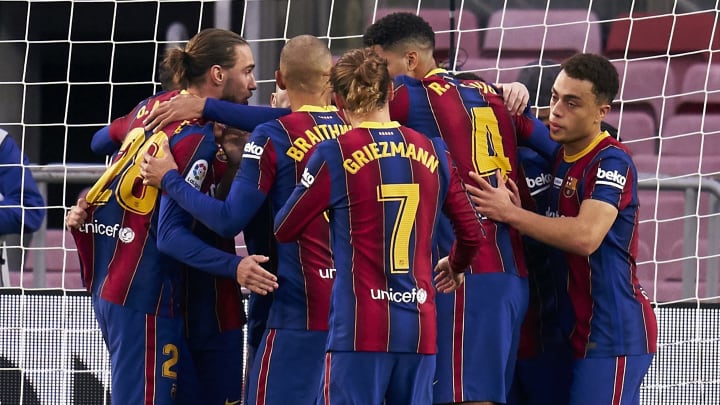 Barcelona have debts that need to be repaid / Quality Sport Images/Getty Images
Barcelona have turned to banks and lenders in a bid for leniency as they fight against the threat of possible bankruptcy after a non-payment to their creditors.
Barca are in a terrible financial position and debt has spiralled out of control amid the dramatic cuts to revenue because of the coronavirus pandemic, accelerating and worsening existing problems that have been allowed to develop and fester over the last five years.
Barcelona's financial situation has been worsened by the pandemic / Visionhaus/Getty Images
According to a report from Spanish newspaper El Confidencial, Barcelona have turned to the likes of Goldman Sachs, Allianz and Prudential to request flexibility following a non-payment of €200m, seemingly breaking the terms of their financial arrangements.
It is said that the club has a negative working capital of just over €600m and have asked their creditors to extend what are described 'imminent debts' of €300m for one year to avoid defaulting.
Between June 2019 and June 2020 is estimated that Barca's debt more than doubled, while one recent estimate in Spain had already put the number at a ballooning €900m.
Barcelona's income has been obliterated by the pandemic. With Camp Nou closed to fans on matchdays, ticket sales and other associated revenue have dried up, while the stadium is also usually a money spinner from tourism, with people visiting the tour, museum and shop in droves.
Camp Nou remains closed to fans & tourists / JOSEP LAGO/Getty Images
But it is not the sole problem. Barca's spending has been considered reckless and lacking in long-term planning for a number of years. Lionel Messi was denied a €39m loyalty payment in 2017 that was finally given to him last year, while the likes of Philippe Coutinho, Antoine Griezmann and Ousmane Dembele were all handed big money contracts upon arriving for over €100m each.
In November, presidential candidate Victor Font described the club's finances as being in a 'critical' state, to the point where there was no liquid cash available to equip coach Ronald Koeman with primary transfer targets Eric Garcia or Memphis Depay in the summer window, neither of whom would have commanded enormous fees.
The presidential election originally scheduled for this weekend has been pushed back to March as a result of coronavirus fears, only delaying the ongoing uncertainty even more.
---
For more from Jamie Spencer, follow him on Twitter and Facebook!