FC Barcelona
Barcelona confirm signing of Sergio Aguero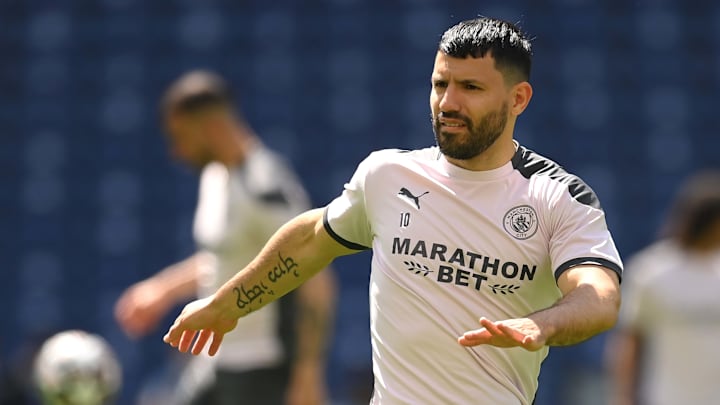 Aguero has officially joined Barcelona / David Ramos/Getty Images
Barcelona have confirmed the signing of Man City striker Sergio Aguero on a free transfer.
Aguero's exit from the Premier League champions was confirmed earlier this season, and he was honoured in their final home game against Everton - complete with an emotional send-off from Pep Guardiola himself.
He made his final appearance for City in the Champions League final defeat to Chelsea, and leaves after ten years at the Etihad.
It had long been expected that he would join Barcelona next and the Catalan side appeared to drop the ball when they accidentally leaked his arrival onto their website earlier on Monday.
Now they have officially confirmed that Aguero is heading to Camp Nou on a two-year deal, and will have a €100m release clause.
Aguero joins Barça as one of the Premier League's all-time greats, and there has been much anticipation about him linking up with Lionel Messi, though the Barca captain is yet to extend his contract to cover next season.
Aguero leaves City as their all-time top scorer, having netted 260 times in his 390 appearances since joining from Atletico Madrid. He is also the Premier League's fourth top scorer of all-time and has won the division a remarkable five times in his decade in England.
Speaking about his departure after the 5-0 win over Everton, Guardiola paid an emotional tribute to the outgoing hitman.
"We love him so much. He's a special person. He's so nice. He helped me a lot.
"We cannot replace him, we cannot. There are many players in this club – Joe Hart, David Silva - who helped us to be this club. We have his legacy. He showed his quality in 30 minutes."
Aguero will now turn his attentions to helping Barça regain La Liga after a damaging 2020/21 campaign in which they finished 3rd.