FC Barcelona
The best players ever to wear numbers 1-11 at Barcelona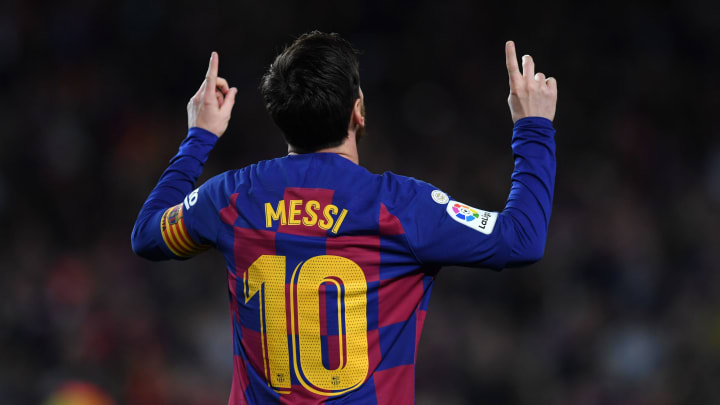 Leo Messi's number 10 shirt is currently vacant / Alex Caparros/GettyImages
Squad number OCD – a condition characterised by cringing when you see a right-back wearing the no.8 shirt.
It may be because the majority of us wasted our childhoods playing Football Manager (disclaimer – there's no such thing as 'wasted time' on Football Manager, but I've got to say it), but when a right midfielder isn't wearing number seven and a left-back isn't wearing number three, it makes you shudder.
Something else that makes you shudder? Watching Leo Messi leave Barcelona for nothing due to the club's years of mismanagement, meaning he'll now wear number 30 at Paris Saint-Germain, and watching the club scratch around to register players they signed months ago.
Barcelona have now managed to register the likes of Memphis Depay and Eric Garcia, and they've each been given new numbers for the start of the 2021/22 season. But Messi's shirt remains vacant.
With shirt numbers in mind, we've compiled the best Barcelona players ever to have worn the shirt numbers 1-11 - and Neymar, Johan Cruyff, Ronaldinho and Diego Maradona are nowhere to be seen.
---
1.

Andoni Zubizarreta
One of Barcelona's greatest ever players / Simon Bruty/Getty Images
Victor Valdes could feel aggrieved to not be given the nod here, and admittedly he is slightly more decorated when considering team honours.

However, Zubizarreta was probably just about the better goalkeeper, meaning he gets the nod.

Four La Liga titles, one European Cup and two Copa del Rey crowns mean Zubizarreta will live long in the hearts of Barcelona fans. He also clocked up 126 caps for Spain, appearing in an astonishing four World Cups.
2.

Dani Alves
Dani Alves has more trophies than anybody in football history / David Ramos/Getty Images
The modern day right-back.

One of Pep Guardiola's very first acts having been promoted to head coach of the senior team was to lure Alves away from Sevilla.

Alves spent eight seasons at Camp Nou winning just about every accolade there is to win at the top level of European football. If you've ever got a spare few hours, go and look up the individual and team honours Alves has accrued in his 19-year career- it makes Samuel L. Jackson's filmography look sparse.
3.

Gerard Pique
Took a huge pay cut to get Barcelona out of their mess - what a hero, huh? / Eric Alonso/Getty Images
So, if signing Alves was one of Guardiola's first acts, signing Piqué was his very first act.

Not much higher a compliment than arguably the greatest coach in the world immediately singling you out as his first signing at a club as big as Barcelona.

Piqué created a formidable partnership with Carles Puyol at the heart of the Barça defence. Many questioned whether Piqué would be found out following the retirement of his commanding partner, though he answered those questioned emphatically with the club winning the treble the following year. A giant for club and country.
4.

Pep Guardiola
Pep was quite the baller in his day / Stu Forster/Getty Images
Speak of the devil.

You just know he was one of those annoying kids at school who was good at everything, don't you?

To say he has gone on to become a better manager than he was a player is some accolade, given he was the lynchpin of one of the most successful sides in Europe.

Guardiola played as a deep-lying playmaker in Johan Cruyff's team that won the club's first European Cup in 1992. Not noted for his physical attributes, Guardiola excelled to become one of the greatest midfielders of his generation purely via technical ability and reading of the game. Went on to captain the side from 1997 before his departure in 2001.
5.

Carles Puyol
An incredible leader, was Carles Puyol / Getty Images/Getty Images
When you think of Guardiola's Barça you think of fancy football, flowing attacks, slick through balls and a metronome midfield. But let me tell you, no team gets by on pretty football, and Puyol was the driving force behind that side.

Puyol was a throwback. With his unkempt hair and disregard for how he's wearing his shirt, his no nonsense approach allowed Pique to become the defender he is today.

It's often argued that to be a great player you have to be able to cut it internationally and in different leagues, well this man could cut it on any stage in any league in the world. And don't be fooled into thinking he was just 'a stopper'. Every player in a Guardiola team had to be able to play football and Puyol certainly could. An all-round brilliant footballer, leader, Barça legend.
6.

Xavi
Xavi was pretty good at the football, wasn't he? / David Ramos/Getty Images
The heartbeat of arguably the greatest club side ever.

There isn't a medal this man doesn't have in his trophy cabinet both at club level and internationally. Had he not played in a generation containing Messi and Cristiano Ronaldo he would undoubtedly have had more individual honours than the multiple third place finishes in the Ballon d'Or voting.

The midfield trio of him, Andres Iniesta and Sergio Busquets dominated world football for years and are a massive part of the reason Spain and Barcelona were so successful.

The world will ever see a midfield as stylish and effective as these three.
7.

Luis Figo
Luis Figo made one of the most controversial moves ever - from Barcelona to Real Madrid / Stu Forster/Getty Images
A controversial choice given his decision to leave for arch-rivals Real Madrid, but there's no hiding the fact that Figo lit up Camp Nou.

He made 249 appearances for the club, scoring 45 goals. His five-year spell in Catalonia resulted in two La Liga titles and two Copa del Rey titles, but his time at Barcelona was curtailed thanks to Florentino Perez's Galactico experiment.

Shortly after leaving for Madrid he was awarded the Ballon d'Or, an award that he won for his performances in a Barcelona shirt but ultimately paraded in a Real Madrid shirt. Now you understand the bitterness.
8.

Andres Iniesta
Andres Iniesta enjoyed an incredible career / David Ramos/Getty Images
An absolute magician of a footballer.

In terms of achievements, such are the similarities between Iniesta and his partner in crime, Xavi, you can pretty much copy and paste everything.

Iniesta himself has found himself narrowly missing out on the top individual prizes courtesy of messrs Ronaldo and Messi, though that shouldn't overshadow what was a stellar career.

Made an astonishing 674 appearances for Barcelona over a 16-year period, scoring 57 goals.

Special mention to the coolness shown as the ball fell to his feet in the 116th minute of the World Cup final. Unflappable.
9.

László Kubala
László Kubala & Alfredo di Stefano playing keepy ups / STAFF/Getty Images
The fact that this man edges Johan Cruyff out of our list tells you already what a superstar he is at Barcelona.

Hungarian Kubala is considered a hero to Barcelona fans, scoring 280 goals in his 345 appearances for the club between 1951-1961. His spell at the club saw Barça dominate domestically, notching four La Liga titles.

His seven goals in a 9-0 romp over Sporting de Gijon remains a La Liga record to this day. He would later return to manage the club.
10.

Lionel Messi
What will Barca do without him? / PAU BARRENA/Getty Images
It seems a shame that Ronaldinho and Diego Maradona both miss out but there really could only be one Barcelona number ten...Lionel Messi.

778 games played; 672 goals scored. Six Ballons d'Or, ten La Liga titles, four Champions Leagues, and this summer he finally won a major tournament with Argentina too.

But after all that, he's gone. The club's own incompetence cost them their best ever player, and he's taking his goals to Paris.
11.

Rivaldo
Nobody will ever forget that bicycle kick against Valencia / CHRISTOPHE SIMON/Getty Images
Special mention to Neymar who was alright at Barcelona, but 130 goals in 235 goals mean Rivaldo takes the number 11 shirt.

The Brazilian World Cup winner wasn't shy of throwing his weight around at Camp Nou and endured many a fall out with both managers and the club's hierarchy. But strops aside, his class on the pitch was unquestionable.

Rivaldo rarely settled at a club for long, so the five years he spent at Barcelona are quite staggering. In that time he won two league titles and a whole host of individual accolades. 

His hat-trick against Valencia is widely regarded as the greatest hat-trick of all time, topped off with a magical overhead kick from outside the area. Truly one of the greats of his time.