Anatomy of a Goal: Zlatan Ibrahimovic's Ridiculous Overhead Kick vs England in 2012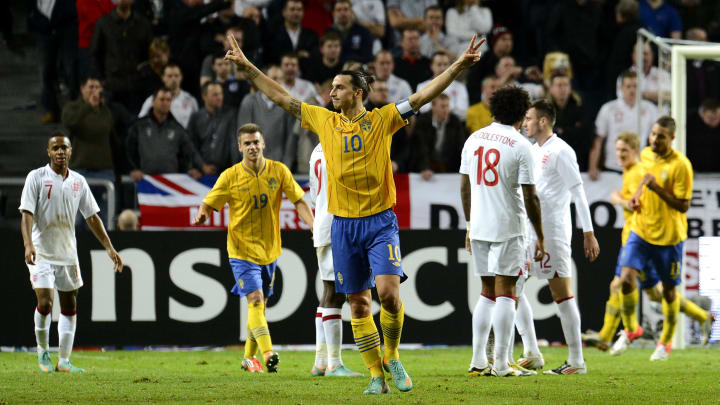 The acrobatic GOAT / JONATHAN NACKSTRAND/Getty Images
Back in 2012, football changed forever. The world stopped and stared, jaws on the floor and eyes bursting from their sockets in bewilderment, trying to comprehend the lunacy that they'd just witnessed.
The date was 14 November 2012. Tom Cleverley, Carl Jenkinson, Stewart Downing, Steven Caulker, Leon Osman and Phil Jagielka were actual England internationals, while YOLO was still something the hip teens said. These were very, very different times.
One fact that has remained true in the years since however, is that Zlatan Ibrahimovic was - and is - at the peak of European football.
A rare sight in football / Michael Regan/Getty Images
The Swedish striker had just brought a prolific spell at Milan to an end, and was now embarking on a new adventure at French giants Paris Saint-Germain. You won't be shocked to discover, that went pretty well for him, too.
However, it was in an international friendly match against the plucky English that Ibrahimovic - already with a hat-trick to his name - delivered one of the greatest goals in his long, long, long career - a strike so bonkers that it will forever go down in football folklore.
"What was this mystical goal that you speak of?" I hear you ask. Don't worry, 90min is about to break it down for you, Zlatan style.
---
The Setting
She's a beauty / Michael Regan/Getty Images
We're teleporting back to 2012, and more specifically, to the Nationalarenan in Sweden. It was the inauguration of the new stadium in Stockholm, and there was a carnival atmosphere swirling around the ground. All that was missing was an entertaining 90 minutes of football to cap off a wonderful evening.
And as far as matches go, this was already living up to its billing as worthy of blessing a new footballing church. Caulker had marked his international debut with a goal, handing party-poopers England a 2-1 lead in the first half. For a long time, it appeared that the Three Lions were destined to rain on the Swede's parade. That is, until Zlatan came to life.
The talismanic striker had already broken the deadlock, but having seen his good work destroyed, he set about getting his revenge. Two goals in seven second-half minutes from Ibra put the hosts back in the lead and gave him his hat-trick, and with mere minutes left to play, you'd think they'd be settling for the narrow win.
The hat-trick hero had other ideas.
---
The Build-Up
Hart was powerless to stop this moment of history / Michael Regan/Getty Images
It's the 91st minute. England are pushing for an equaliser, when a long punt downfield relieves some pressure on the Swedish back line. The (then) reliable Joe Hart spots an opportunity to get the Three Lions back up the pitch, and rushes out of his penalty area to meet the bouncing ball. He doesn't quite get his angles right, though.
The stopper halts his charge, realising he's badly mistimed his assault. Hart tries to get some distance on his header, but all of 30 yards from his net, he can only send the ball vertically into space.
Sensing little danger, he turns and begins a jog back towards the net. But the damage was already done.
---
The Thought Process
That look when you're about to pull off an insane overhead kick / JONATHAN NACKSTRAND/Getty Images
With the ball hurtling towards earth, there is one man standing beneath its flight path. That's right folks, it was Ibra. But what should he do? Bring the ball down and head for the corner flag? Knock it into the path of a teammate and try to catch England cold?
Nah. The forward pretends to consider all his options for a split second, and then decides, 'F**k it, I'm just gonna hit it and see what happens'. Okay, there was probably a bit more thought put into his choice, but so much of the beauty of this goal stems from the bravery and balls to even imagine an effort to this degree - let alone pull it off.
---
The Execution
An iconic photo / JONATHAN NACKSTRAND/Getty Images
The big Swede backtracks to align himself with Hart's poor header, and with his back to goal, 30 yards from the net, he throws his body into the air, and swings his legs above his head. An overhead kick.
A silence spreads around the stadium. A simultaneous gasp echoes. The sound of the new stadium seats slapping the backboard rings around, as supporters bounce to their feet in disbelief. Then, a scream is heard. "ZLATAAAAAAN!" The big man calls out. Of course he calls out his own name.
We'd like to think so, anyway.
What really happens, is equally as remarkable. Ibrahimovic connects with the ball so, so sweetly, his legs twirling in an acrobatic frenzy, and with that, his shot begins to gather momentum as it crashes towards the goalmouth.
Hart is stunned. He can only watch. And he probably had the best seat in the house. The strike flies, arcs, loops and arrows simultaneously, careering towards the near post. A desperate Ryan Shawcross (yes, that Ryan Shawcross) throws himself into the ball's trajectory, but he's a fraction too late. He was a split second from becoming an enemy of football for stopping this wonder goal, but instead only manages to make it look more impressive as he crashes into the woodwork.
And in a second, it was over. The ball hits the net. Sweden had won the game, and in the most majestic of circumstances. Their new stadium had been christened by their daddy, and there was nothing left to do but throw your hands in the air and admit, you cannot deny talent like that.
A goal for the ages, scored by the most timeless man of all.
---