How Would Jerry Maguire Look If it Was Made Today (& Involved Footballers)?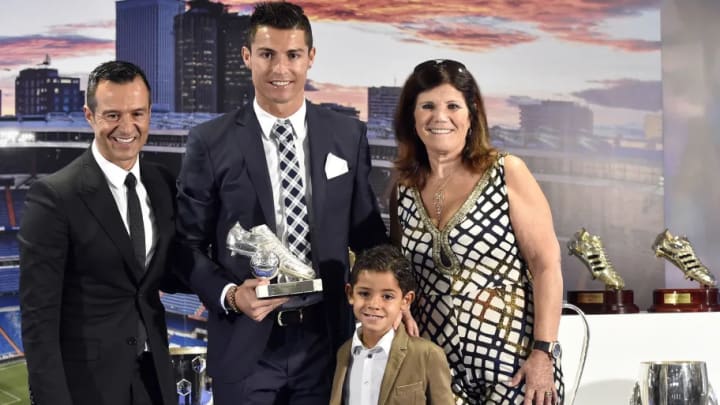 ​What's the best Tom Cruise movie out there?
No, it's not The Mummy. It's clearly Jerry Maguire.
Released in 1996, the film follows the NFL player agent Maguire, who breaks away from his agency and battles to get his only client Rod Tidwell, an ageing and injury-prone wide-receiver, a new big-money deal with the Arizona Cardinals.
Now, there's just one problem for us. The film is about the NFL, not football/soccer. 
But what if it did have footballers instead? And what if it was set today? These are the questions we all want to know the answers to.
Let's take a look at how a 2020 version would look.
---
The Name
As much as the name 'Jerry Maguire' works for American sports, it would not translate well for football. In fact, there's hardly anyone in the sport called 'Jerry' at all.
So the best thing to do, is to take the agent who has the same initials as Maguire. It's also a pretty easy name to say. Oh, and he happens to be the most powerful agent in the world.
Yep, Jorge Mendes is what we've come up with.
---
The Disgruntled Star Client
The thing about Rod Tidwell was that he wasn't looking to get a championship at this point in his career. All he wanted was to get a high-paying contract to support his family, as retirement loomed closer for the wide-receiver.
But Rod was injury-prone, and so he was always at risk of not getting paid by his team if he was sidelined.
So in 2020, who would fit the bill in football? Someone who's suffered multiple injuries, but is looking to get paid, happy to stay put at their team?
Sure, Jack Wilshere comes to mind. But we all know it's the strikers who are most likely to face such a dilemma. They rely on staying on the pitch to score goals, which is pretty much what they're paid to do.
Really, the best choice for the role is Andy Carroll. He's got the closest profile to Tidwell - he's 30 years old, plays for his hometown club in Newcastle United, and has struggled with injuries. The big Geordie probably needs a big pay day which would take him to the end of his career - which is what Tidwell needed too.
And could we see Mike Ashley withholding his pay because he wasn't fit? 100%.
---
The Rival Agent
Maguire finds himself betrayed by his protégé, Bob Sugar, when he finds out the younger man has signed up all of his clients except Tidwell.
This is tricky, as many of the most well-known agents in football appear a lot older than Sugar - and there's not really a perfect match out there for him.
Nonetheless, there is a name who comes to mind for the role. And we reckon his inclusion would add extra spice than the original film had. 
Yep, Mino Raiola would be a great rival for Mendes. The Italian has pretty much signed up every major talent before anyone else can google 'Erling Braut Haaland'. Would he hesitate before taking any of Mendes' clients? Not a chance.
---
The Phone Call
Ah yes, the famous phone call. The moment when Tidwell demands Maguire to shout: "Show me the money!". A line we can definitely use here.
So, imagine Newcastle have offered Carroll a contract that will take him to the end of his career. Problem is, it's a lot lower than the striker would like, and includes multiple performance-dependent bonuses: such as playing 20 games-a-season, scoring at least ten goals, and wearing certain Sports Direct branded clothing at all times.
The 30-year-old angrily calls Mendes, accusing the agent of not having his back. It leads to a major back-and-forth argument between the pair. Mendes shouting at the striker to prove he deserves a better contract, and ​Carroll in turn telling him he needs to try harder in his contract negotiations.
And after encouraging Mendes to shout 'show me the money', Carroll hangs up satisfied. Only, it's taken 15 minutes for him to hear the line, as his strong Geordie accent meant that his agent struggled to understand the four words initially, before finally bellowing it with confidence.
---
The Final Game
It's the final day of the Premier League season. At St. James' Park, Newcastle need a win against ​Manchester United, the Dallas Cowboys of the Premier League, to clinch Champions League football, but Carroll is left on the bench for the game. 
Marcus Rashford puts the away side in front just before half-time, with the Magpies behind at the break. In the second-half, with Dwight Gayle struggling with a hamstring strain, Bruce makes the big call to put Carroll on for the last 30 minutes, hoping for a major turnaround.
And the target-man inspires a huge comeback, first shrugging off the marking of Harry Maguire and nodding in Matt Ritchie's corner for the equaliser. Then in stoppage time, a long floated ball from Jonjo Shelvey soars in the direction of the 30-year-old, and he volleys home a spectacular finish that makes it 2-1 to the ​Magpies. They hold on to claim the victory and a top-four finish, with Carroll mobbed by teammates, Bruce, and fans alike.
And when Mendes makes his way down from Ashley's beer-filled owner's box, he envelopes the agent into a big bear-hug, tears rolling down the Portuguese's face.
---
The Contract
Post-game, Mendes gets to work and soon Ashley comes through with a much improved offer. A lifetime deal at the club, to be exact.
His wages soar to a number way higher than what Mesut Özil gets paid at Arsenal. The goal bonus handsomely pays Carroll £1m per strike. 
And of course, Ashley directs Sports Direct and House of Fraser to provide him with whatever clothes and mugs he desires. Oh, and all drinks are taken care of by the owner. He won't need to pay for a beer again.
Roll credits.
---