65,000 green goals scored by fans ahead of Green Football Weekend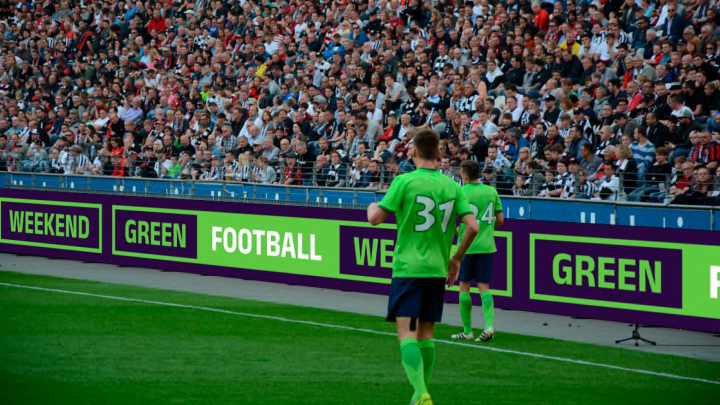 Image courtesy of Green Football Weekend /
This coming weekend, top clubs will join their fans to take action on tackling climate change and protecting nature during the Green Football Weekend.
Leading sides including Tottenham Hotspur, Liverpool, Manchester United, Norwich City, and Bristol City will be taking part in greener games to make their matches as carbon-friendly as possible. More than 35 teams are wearing green armbands to show their support for climate change.
Fans up and down the country have taken part in the Green Football Cup over the last few weeks, scoring nearly 65,000 green goals for the their clubs in order to propel them up the league table.
Manchester United are currently leading the way, followed by Leicester City, in a league decided by fans scoring goals by taking climate-friendly actions, including taking shorter showers, eating more vegetarian meals and telling their clubs what they'd like them to do to go greener. Leeds United, Chelsea and Port Vale are following close behind in the table.
Players such as Port Vale's Funso Ojo and Wycombe Wanderers David Wheeler – whose teams will be playing each other on Green Football Weekend - have been challenging their fans to score as many green goals as them (currently 855 and 160 respectively). Earlier in the competition, Ojo held the title of highest scoring fan in the Green Football Cup.
Ahead of a weekend of climate conscious initiatives up and down the English football pyramid, Tottenham defender Amy Turner expressed her excitement at seeing clubs and fans come together for Green Football Weekend:
"Clubs have such an important role to play in driving progress on climate change, and there's so much for us all to do. It's exciting to see Green Football Weekend bringing together the power of fans and clubs together to take action and make a difference. That's how we can have real impact."
Green Football Weekend's Sarah Jacobs is also keen to see such initiatives in order to decrease football's extraordinary carbon footprint: "Climate change is already having dire consequences for football, from flooded pitches to sweltering summer temperatures.
"Football clubs and fans have a critical role to play in protecting our world. It's brilliant to see the power of fan action inspiring clubs and the whole football community to be more ambitious.
"There's still a huge amount that needs to happen - including clubs travelling sustainably to nearby matches becoming the norm - but this is very much a journey. Green Football Weekend - which is set to be the first of an annual event - is bringing everybody together to raise collective ambition, generate momentum, and start to demonstrate what football can achieve when it puts sustainability the heart of what it does."
---
Green Football Weekend is the biggest football and climate campaign ever staged, unleashing the power of football to tackle climate change and protect nature. Running until 5th Feb, the campaign brings together football fans, more than 80 professional football clubs, the FA, EFL, National Trust and many more. Find out more at www.greenfootballweekend.com.