Barcelona's Luis Suarez Issues Warning to Ousmane Dembele Over Attitude Problems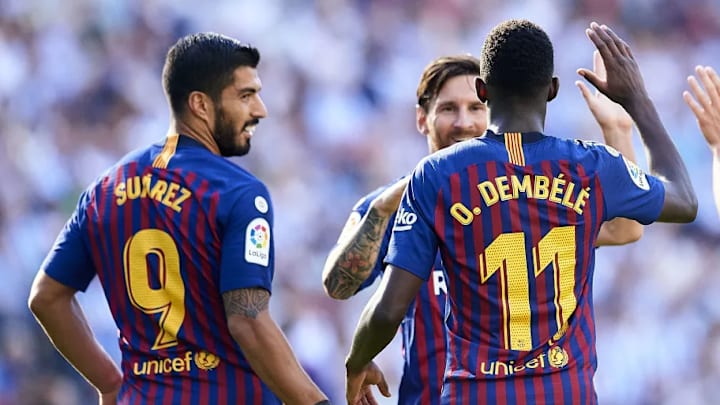 Barcelona striker Luis Suarez has issued a stern warning to 21-year-old Camp Nou colleague Ousmane Dembele, urging the World Cup winner to adopt a more professional attitude and insisting that being a professional footballer remains a rare 'privilege'.
It comes as Dembele is coming under increased scrutiny following reports that the club is concerned over his attitude and behaviour and even fears he may have a video game addiction after recently being absent from training the night after an alleged marathon gaming session.
President Josep Maria Bartomeu is believed to expressed concerns to the player's agent at a meeting last week and there have even been media suggestions that Barça have issued Dembele with an ultimatum to improve his attitude or he will never be able to deliver.
No Barça players had addressed the issue in public until Suarez was questioned by the media ahead of Uruguay's upcoming international friendly with France, where the 31-year-old could face his young club-mate on the pitch.
"Being a footballer is a privilege," Suarez asserted.
"I think he should concentrate mainly on football, and be inspired by the examples of professionalism in the Barça dressing room," he added.
Within that, Suarez will be pointing to himself and the likes of Lionel Messi, Gerard Pique, Sergio Busquets, Jordi Alba, Ivan Rakitic and others, individuals who have been incredibly successful and yet continue to work hard in order to keep winning.
Dembele only celebrated his 21st birthday in May and has virtually 'done it all', so to speak.
He has already played for two of the most exciting and respected clubs in Europe in Barcelona and Borussia Dortmund, has been the subject of a €145m transfer which remains the fourth most expensive of all time, is on a reported salary of €12m per year, has won club trophies in two different countries and has now tasted World Cup glory as well.
In short, he has achieved far more already than most players manage in their entire career and it is concerning that he has perhaps had too much too soon in his whirlwind career.