10 Years
The 10 best games of the decade - ranked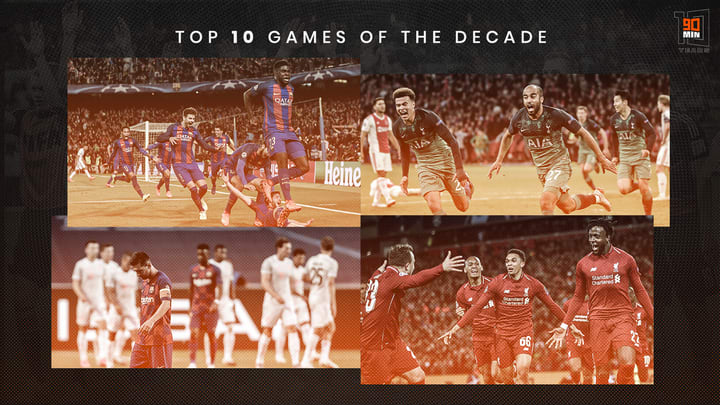 There has been some unbelievable games over the past 10 years / 90min
The last 10 years have produced countless outstanding games, with goals, drama, intrigue and incredible quality.
From the World Cup, Champions League, Premier League and La Liga, there have been moments and matches that will go down in football history and never ever be forgotten about - whether that is because of what was at stake, an unexpected thrashing, late comebacks or intense showdowns.
Here are 90min's picks for the 10 best games of the last decade.
---
10.

Barcelona 2-2 Chelsea, April 2012
Chelsea were massive underdogs against Barcelona in 2012 / JOSEP LAGO/GettyImages
Chelsea had been among the very best in Europe only a few years earlier, but that was no longer the case in 2012, with the Blues in transition. Barcelona, meanwhile, were reigning European champions and still arguably one of the best teams of all time.

This was also the season that Lionel Messi was at his best, scoring 73 goals in total. Yet Chelsea sprung a surprise by winning the first leg and then hung in there in the return at Camp Nou. Fernando Torres' late equaliser even prompted an iconic...noise...from Gary Neville in commentary.
9.

Liverpool 4-0 Barcelona, May 2019
Divock Origi became a Liverpool cult hero for his goals against Barcelona / Tom Jenkins/GettyImages
Liverpool were the first team in the Champions League era, and the first in the European Cup since 1986, to overturn a 3-0 first leg deficit in a semi-final when they thrashed Barcelona at Anfield in 2019.

With no Mohamed Salah or Roberto Firmino, Divock Origi proved to be the unlikely hero on the famous night. The Belgian scored the first and fourth goals, either side of a quickfire Georginio Wijnaldum brace. The fourth, latching onto a quick corner from Trent Alexander-Arnold has become particularly iconic.
8.

Spain 1-5 Netherlands, June 2014
Robin van Persie gave literal meaning to 'Flying Dutchman' in 2014 / LLUIS GENE/GettyImages
Spain went into the 2014 World Cup as reigning champions and back-to-back reigning European champions, having won three consecutive tournaments between 2008 and 2012. No one expected what happened when they met Netherlands in their opening group game.

This was a repeat of the 2010 final, but instead it was full of goals. The Dutch tactics employed by Louis van Gaal blew the Spanish away, while Robin van Persie's flying header in the 5-1 thrashing was nominated for that year's Puskas Award.
7.

Real Madrid 2-3 Barcelona, April 2017
Lionel Messi stole the headlines at the Bernabeu / OSCAR DEL POZO/GettyImages
El Clasico at the Bernabeu in 2017 had the potential to be a huge moment in La Liga's tense title race. Real Madrid were chasing their first triumph since 2012 and had a three-point lead, but Barcelona then won in dramatic late fashion in the capital.

Real went ahead, but the Catalans turned it around, only for James Rodriguez to score a late equaliser to make it 2-2. Step forward, Lionel Messi, who added to his earlier strike, scoring his 500th Barcelona goal to win it.
6.

Man City 4-3 Tottenham, April 2019
Man City thought they had won the tie in stoppage time / Marc Atkins/GettyImages
Having conquered England in record-breaking fashion in 2017/18, Manchester City were going for European glory in 2018/19, only for domestic rivals Tottenham to shatter those dreams in stunning fashion.

A 4-3 result gave City a win in the second leg at the Etihad Stadium. But because of a 1-0 defeat in the first leg and Spurs' three away goals, it wasn't enough. They still needed another and thought they had it at the death when Raheem Sterling scored what would have been a hat-trick goal. Yet in the early days of VAR, it was ruled out and Spurs prevailed.
5.

Ajax 2-3 Tottenham, May 2019
Lucas Moura & Tottenham did the impossible in 2019 / VI-Images/GettyImages
Having already been involved in one incredible match en-route to the 2019 Champions League final, Tottenham played in another when they met Ajax in the semi-finals.

A new Ajax golden generation had claimed the scalps of Real Madrid and Juventus already and had a 3-0 aggregate lead with only one half of the second leg still to play. Lucas Moura scored twice to give Spurs a chance, but the crucial third, which secured an away goals win, didn't come until the 96th minute in Amsterdam.
4.

Barcelona 2-8 Bayern Munich, August 2020
Lionel Messi tried to leave Barcelona after this game / Pool/GettyImages
This Champions League semi-final between Barcelona and Bayern Munich was unique in more than one way. It was one-legged, played in August and took place behind closed doors, all because of the coronavirus pandemic, while it also proved to be the worst night and Barcelona's history.

Bayern Munich were clear favourites to go all the way and lift the trophy, yet nobody could have expected what happened next. The German giants were utterly ruthless and scored four times in the first half hour. Another four came later on and Lionel Messi even asked to leave Camp Nou soon after.
3.

Man City 3-2 QPR, May 2012
Sergio Aguero won the Premier League title for Man City in 2012 / PAUL ELLIS/GettyImages
Manchester City went into the final day of the 2011/12 Premier League season knowing that victory at home against a QPR side in danger of relegation would secure them a first league title in 44 years.

But they were losing 2-1 when the game moved into stoppage time. Even when Edin Dzeko made it 2-2 in the 91st minute, the title was still going to Manchester United, until Sergio Aguero stepped in with that goal.
2.

Barcelona 6-1 PSG, March 2017
La Remontada is an iconic moment in modern football history / VI-Images/GettyImages
Barcelona's Champions League comeback against PSG in 2017 is so iconic it has its own name: La Remontada.

The Catalans trailed 4-0 from the first leg of the last 16 tie in Paris and were facing their earliest elimination in 10 years. They pulled three goals back, but then an away goal from Edinson Cavani ensured they still needed three more. But two from Neymar in the dying minutes and then the dramatic sixth from Sergi Roberto sealed a historic 6-1 win.
1.

Brazil 1-7 Germany, July 2014
Brazil showed Germany no mercy at the 2014 World Cup / Jean Catuffe/GettyImages
Brazil were hoping to exorcise the 64 years' worth of demons when they hosted the World Cup in 2014, having been left heartbroken in the final game game by Uruguay in 1950.

Things were mostly going well for the hosts and they reached the semi-finals without too much difficulty. But without talisman Neymar, injured in the previous round, and defensive rock Thiago Silva, Brazil crumbled. Germany took full advantage and scored five times in just the opening 29 minutes.