Manchester United
Victor Lindelof's UFC-Style Flying Kick Sees Axel Tuanzebe's First Manchester United Goal Ruled Out
Feb 26, 2021, 5:35 PM GMT+5:30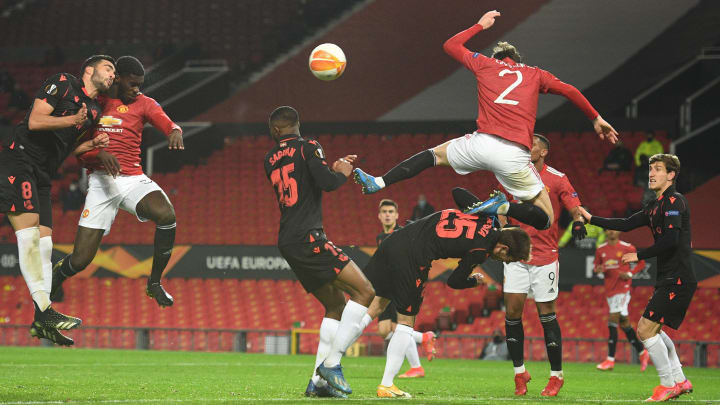 Victor Lindelof chose an oddly-inappropriate time to show off his UFC-style skills during Manchester United's 0-0 draw with Real Sociedad in the Europa League. Axel Tuanzebe thought he had scored his first goal for the club only for VAR to rule it out as Lindelof appeared to foul Jon Bautista in the box.
The United defender jumped for the ball, completely missed it, and connected a devastating knee straight to Bautista's face. The player immediately fell to the ground, clutching his face, and United had their goal knocked off.
With Ole Gunnar Solskjaer's side picking up a comfortable 4-0 away win, Lindelof's action was the only thing talked about on social media.
However, United legend Paul Scholes didn't think the goal shouldn't have been ruled out because he believes Lindelof's reaction wasn't intentional.
Speaking to BT Sport after the match, Scholes said: "Lindelof did not mean to do it and I don't think it affected the play anyway. I felt sorry for him because what a header that is from Tuanzebe, he's celebrating, he thinks he's scored a goal. I don't think it affected the goal, no. It's an accident, it doesn't affect the play. It does not affect the play, give him the goal." (h/t Manchester Evening News)
However, fellow pundit, Robbie Savage, did not agree with Scholes' assessment, and argued that the challenge was reckless, even if it did not interrupt play. He said: "I didn't mean to two-foot you when I played against you, but I did it often enough. You don't think that's a foul? It's a foul. It's a reckless challenge."