Champions League
UEFA Delay Potential Super League Punishments for Barcelona, Real Madrid, and Juventus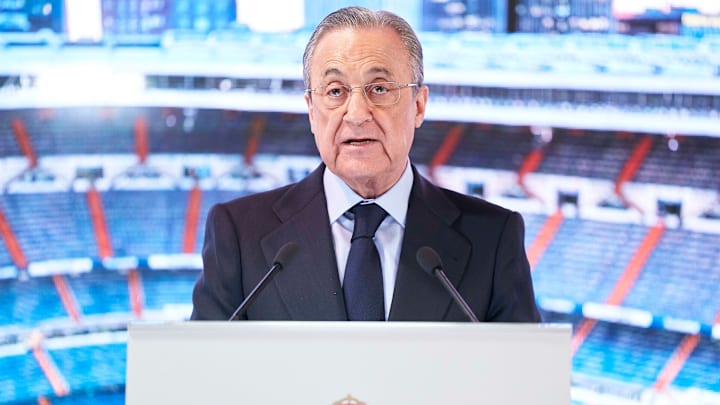 Real Madrid president Florentino Perez was one of the leading men behind the creation of the ESL / Quality Sport Images/Getty Images
UEFA have announced that they are delaying potential punishments for Barcelona, Real Madrid, and Juventus for their role in the creation of the European Super League (ESL).
The trio are the only clubs who haven't backed out of supporting the breakaway league, and were threatened with facing a potential Champions League ban. However, UEFA has revealed that punishments for the three clubs will not be issued in the near future.
"Following the opening of disciplinary proceedings against FC Barcelona, Juventus FC and Real Madrid CF for a potential violation of UEFA's legal framework in connection with the so-called 'Super League' project, the UEFA Appeals Body has decided to stay the proceedings until further notice," an official statement read.
While Barcelona, Madrid, and Juventus seemed to have escaped punishment for the time being, the Premier League's "Big Six" agreed to pay off a settlement for their role in ESL, despite withdrawing their support for the league less than 48 hours after its creation.
Arsenal, Chelsea, Liverpool, Manchester City, Manchester United, and Tottenham have agreed to pay a total of £22million as part of a settlement with the Premier League. The clubs have also agreed to a potential fine of £20m each and 30-point deductions if they move to join a similar breakaway league in the future.

"The six clubs involved in proposals to form a European Super League have today acknowledged once again that their actions were a mistake, and have reconfirmed their commitment to the Premier League and the future of the English game," the league and FA said in a joint statement.
"They have wholeheartedly apologised to their fans, fellow clubs, the Premier League and The FA. As a gesture of goodwill, the clubs have collectively agreed to make a contribution of £22m which will go towards the good of the game, including new investment in support for fans, grassroots football and community programmes.
"Furthermore, the clubs have agreed to support rule changes so that any similar actions in the future would lead to a 30 point deduction. Each of the six clubs, in that event, would also be subject to an additional £25m fine. The Premier League and The FA have worked closely together throughout this process and this agreement brings both investigations into the matter to a conclusion."