Top football controversies of 2021 Ronaldo singlehandedly brought down Coca-Cola's stocks down to an all time low / Alex Pantling/GettyImages
The year is almost coming to an end and with the footballing world heading towards a break, it is a great time to revisit what has happened in the year gone by and what's better than having a look at some of the most viral, controversial moments of the year 2021.
---
Biggest footballing controversies in 2021
1.

Cristiano Ronaldo's Coca-Cola snub
Portugal captain Cristiano Ronaldo intentionally put a Coca-Cola bottle away from the cameras during a Euro 2020 press conference.

He encouraged viewers to drink water instead of these drinks.

This one statement from Ronaldo wiped off $4 billion from Coca-Cola's market value and its shares dropped 1.6 per cent.

Later, in a statement, a Coca-Cola spokesperson said, "Players are offered water, alongside Coca-Cola and Coca-Cola Zero Sugar, on arrival at our press conferences." The spokesperson added that people have different "tastes and needs".
2.

Iran's women's football team accused of playing a male goalkeeper
Jordan demands Asian football body investigate gender of Iranian womenâs team player / Anadolu Agency/GettyImages
The most shocking moment of 2021 for sure has to be Zohreh Koudaei, a 32-year-old Iranian goalkeeper of their women's national team.

She saved two penalties during Iran's 4-2 penalty shootout win against Jordan in September.

The President of Jordan's FA, Prince Ali bin al-Hussein, then put out a tweet showing a letter 'requesting a gender verification check' on Koudaei from the (AFC).
3.

UEFA Champions League 2021/22 round of 16 "re-draw"
UEFA Champions League round of 16 draw controversy / Harold Cunningham/GettyImages
UEFA was forced to declare the Champions League's 2021-22 round of 16 draw null and void after a series of mistakes were made during the event.

Manchester United were drawn against PSG after earlier being wrongly paired with Villarreal before being mistakenly left out of the list of possible opponents to face Atletico Madrid.

After the draw, clubs approached UEFA for clarification and the draw was declared null and void and a re-draw was carried out.
4.

European Super League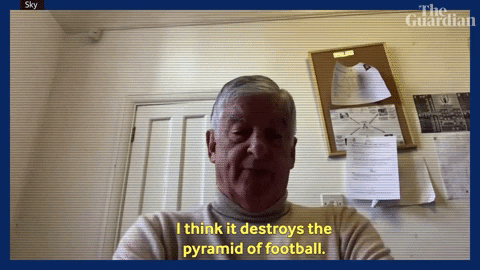 12 elite clubs across Europe woke up and decided to form a "European Super League" in April this year.

The list included Manchester United, Manchester City, PSG, Real Madrid, FC Barcelona, Juventus, Liverpool, Chelsea, Arsenal, Tottenham among others to the count of 15 clubs.

It was reported that each of the 15 founding members of the Super League would get a share of at least 3.5 billion euros ($4.2 billion) in initial infrastructure grants. The money would be split among four tiers of clubs, with the top six each getting 350 million euros ($420 million).

Most of the teams left the league consortium after mass agitation from fans and footballing bodies like FIFA and UEFA.

Real Madrid president Florentino Perez was said to be the mastermind behind this new league and till date, he believes that the ESL is for the betterment of football.
5.

England footballers racially abused after Euro 2020 final
Rashford, Sancho and Saka were racially abused after England's Euro 2020 final loss / Alex Livesey - Danehouse/GettyImages
England were beaten in the Euro 2020 final after a penalty shootout against Italy.

Marcus Rashford, Jadon Sancho and Bukayo Saka missed the penalties and were racially abused after the loss.

This led to a nationwide movement of support for the youngsters.
6.

Benjamin Mendy sexual assault case
Mendy was accused of multiple rapes / PAUL ELLIS/GettyImages
Manchester City defender Benjamin Mendy was accused of six rapes and one sexual assault. Four victims over the age of 16 registered a complaint of assualts taken place between October 2020 and August 2021.