Throwback to When Diego Maradona Interviewed Mike Tyson on Live Television
Nov 26, 2020, 5:36 PM GMT+5:30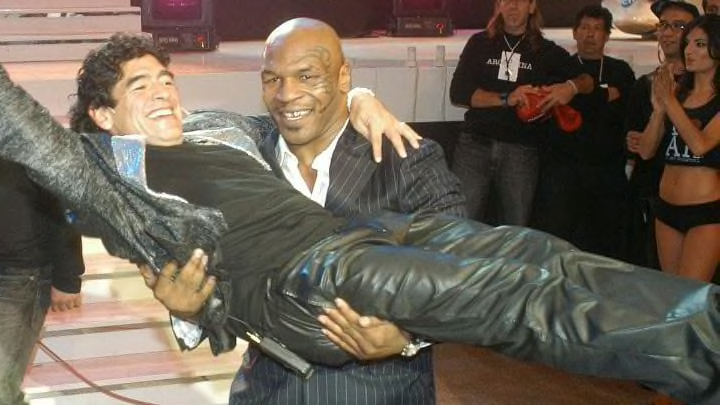 Boxing legend Mike Tyson has paid tribute to legendary Diego Maradona by sharing a moment from the football's legend talk show that the boxer visited 15 years ago.
The TV show involved Tyson also teaching Maradona how to punch and he also lifted the Argentine maestro in his arms.
And now, when the news broke of Maradona's passing, Tyson tweeted, "The Hand of God, Maradona has left us," he tweeted. "In 86 we both won our championships. They used to compare the two of us. He was one of my heroes and a friend. I respected him so much. He will be greatly missed."
Maradona and Tyson instantly became good friends after meeting on the talk show. Tyson also visited the area in Argentina where Maradona grew up.
"Today I was in the neighbourhood you were born [La Boca] and I think we come from similar places, we have a lot in common," said Tyson per ESPN.
"I admire you and respect you very much, because you have been the king of your sport. That's why I'm so happy to be here," Tyson explained to Maradona.
Diego returned the praise in kind, saying: "Tyson is a legend. The greatest boxer there ever was. That's why we worship you so much."
Well, eventually things and talks between these two turned controversial as Tyson said, "I'm not a bad person. I just want to do what I want to do. I don't know, if I want to have sex on the table I do it...I'm tired of being judged all the time. I don't know man, sometimes I just want to smoke a cigarette and I have to be hiding. I don't like that. Right now I just want to do what I like. With all respect, f**k 'em all. I just want to live my life."
He continued by revealing the similarities between him and Maradona as he said, "The important thing is that people like us, who come from the same place we do, have always fought to get where we are," Tyson added before concluding, "And we have had to put up with humiliating experiences. But they could never bring us down."