FC Barcelona News
Sergio Aguero's Brother Slams Pep Guardiola for "Not Wanting" the Argentine at Manchester City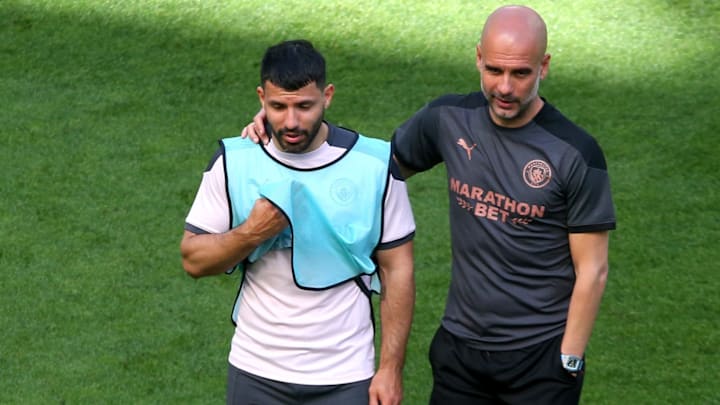 Sergio Aguero's brother has slammed Pep Guardiola / Alex Livesey - Danehouse/Getty Images
Sergio Aguero's brother lashed out at Pep Guardiola on social media, claiming the Manchester City boss "never wanted" the Argentine at the club.
Aguero's brother, Mauricio del Castillo, took to Twitter to hit out at Guardiola, in a series of now-deleted tweets, following the Champions League final loss to Chelsea.
According to the Mirror, Del Castillo said: "Guardiola never wanted my brother since his arrival at City."
The initial tweet was then removed and when asked why, he replied: "Many toxic people, too many."
The 25-year-old, who is also a striker and plays for Independiente, replied to the fact that people have seen his tweet as he said, "Perfect, I'm glad people have seen it and I'll write it again if I want."
Aguero will be leaving City after spending a decade at the Etihad Stadium, with reports claiming the 32-year-old is on his way to Barcelona. Guardiola was also visibly emotional when discussing his departure earlier this month.
He told Sky Sports: "He's a special person for all of us. He's so nice. He helped me a lot, he's so good. We cannot replace him, we cannot. There have been many players at this club, like Joe Hart and David Silva, who have helped us to be this club -- what it is. We helped his legacy and he showed his quality in 20 minutes."
Guardiola concluded, "Sergio is irreplaceable. I could say in terms of numbers he could be replaceable but it's not easy. When you see around 360 games and more than 250 goals, the amount of titles. He's a legend, the best striker I ever had at this club… but he's irreplaceable in the mind for our fans, to our people and to the players that played alongside him or the manager who worked with him. A fantastic person and human being. I think if his mind is still aggressive like he is, he can stand his career longer for two, three, four or five years."