Roy Keane slams David de Gea and Luke Shaw in half-time rant in Manchester derby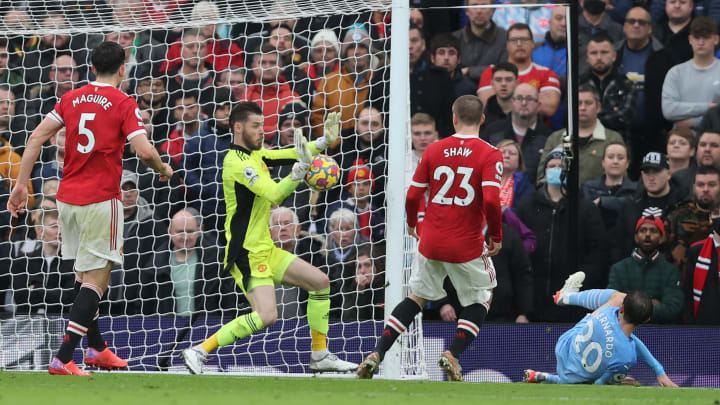 De Gea & Shaw were destroyed by Keane in derby defeat / Clive Brunskill/GettyImages
Roy Keane slammed David de Gea and Luke Shaw during half-time after a poor showing in the first 45 minutes of the Manchester derby on Saturday.
Manchester United conceded two first half goals handing arch-rivals City an easy win, with Eric Bailly scoring an own goal and Bernardo Silva doubling their advantage just before the break.
Shaw was guilty for the second goal and De Gea fumbled Bernardo's shot at his near post, leaving Keane in a fit of rage.
The former Red Devils captain said on Sky Sports: "Look at Shaw and De Gea. What chance have you got in this game? I've been cross with these fellas for years. I give up on these players. They are international footballers! I can't understand the defending...I'm driving down here thinking 'I wonder if Man United have got a chance, they're at home'.
"They've been like this all season, giving up chances. And City got a little bit arrogant in giving one or two chances. It's two at the moment, unless Man United do something drastic, it'll be another four or five."
The animated Keane continued his onslaught of the United team after their disappointing defeat.
"Ole was shook up in that interview," he noted. "It's tough for a manager when you've got beat in a match and he's getting asked hard questions but he's stepped up and he always has and I'll give him that. But if you're a manager, this morning he spoke about the players being in a good mood in the hotel, whatever the hell they were doing.
"You're going into a match looking at the bus and [Luke] Shaw, [Harry] Maguire, Fred are there and your job is depending on these guys? You're in trouble. You've got international players. Anyone who tells me Fred is good enough for United - they're in cuckoo land."