Ranking Europe's Attacking Trios on Form This Season, & Liverpool's Front Three Aren't As Prolific As Their Rivals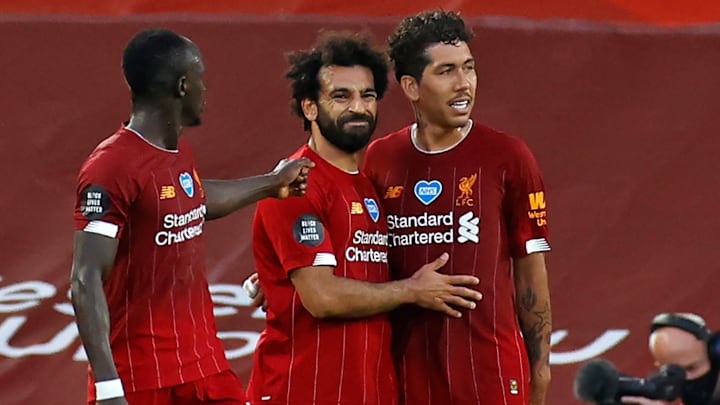 There's no doubt that Liverpool's front, Sadio Mane, Robert Firmino, and Mohamed Salah, have played a major role in the Reds finally winning the Premier League title this season, but they've been overshadowed by other attacks in Europe this season.
And as good as the trio have been, domestically and in Europe, for the past three seasons, they aren't as high up on the list of goals scored by attacking trios as you'd have thought.
As per Transfermarkt, the three are only 11th when it comes to goals scored this season in the league, domestic cup competitions and continental tournaments.
The Reds' threesome only just miss out on the top 10 with Lazio coming in 10th, and Inter from Serie A, and Wolves from the Premier League, just one goal behind the European champions top three.
Here are the top 5 goalscoring trios in Europe this season.
1.

Bayern Munich - 80 goals
Robert Lewandowski - 49
Serge Gnabry - 19
Thomas Muller - 12

Bayern Munich's incredible front three of Robert Lewandowski, Serge Gnabry, and Thomas Muller lead the way with an impressive 80 goals so far this season.

The trio helped Hanse Flick's side to an eighth league title in-a-row and with the league now over they can concentrate on winning the Treble for their team.
2.

Paris Saint-Germain - 68 goals
Kylian Mbappe - 30
Mauro Icardi - 20
Neymar - 18

It takes some effort to outdo a Lionel Messi-led team in these stakes, but Paris Saint-Germain's Kylian Mbappe, Mauro Icardi, and Neymar have managed it.

Since uniting as a three at the beginning of this season, they have been awesome, blowing teams away in relentless fashion and even putting some strong sides (Borussia Dortmund in the Champions League) to the sword.
3.

Manchester City - 62 goals
Sergio Aguero - 23
Raheem Sterling - 21
Gabriel Jesus - 18

Manchester City may have surrendered their Premier League to Liverpool last week, but their front three, Sergio Aguero, Raheem Sterling, and Gabriel Jesus, have still scored more goals.

Aguero leads the club's goalscoring charts, and behind him are Sterling and Jesus whose sprint speeds and low crosses are a constant nightmare for defenders.
4.

RB Leipzig - 60 goals
Timo Werner - 34
Marcel Sabitzer - 16
Emil Forsberg - 10

Timo Werner scored twice against Augsburg on the final day of the Bundesliga season to become RB Leipzig's all-time leading scorer (94 goals) in his final match with the club.

This is the second time Werner has gone beyond 20 league goals in a single campaign, his first coming in 2016-17 when he netted 21 times. The trio's goals and Julian Nagelsmann's canny man-management have helped RB Leipzig push hard for the Bundesliga title this season.
5.

Barcelona - 56 goals
Lionel Messi - 26
Luis Suarez - 16
Antoine Griezmann - 14

Barcelona's front three of Antoine Griezmann, Lionel Messi, and Luis Suarez still need to find their footing, with Barca generally flattering to deceive with their performances at the start of the 2019-20 campaign.

Injuries to Messi and Suarez earlier in the campaign have limited the trio's ability to play together, but they've dovetailed as they try to lead Barcelona to another LaLiga title.