World News
PSG Boss Mauricio Pochettino Claims "Humble" Neymar is Easy to Coach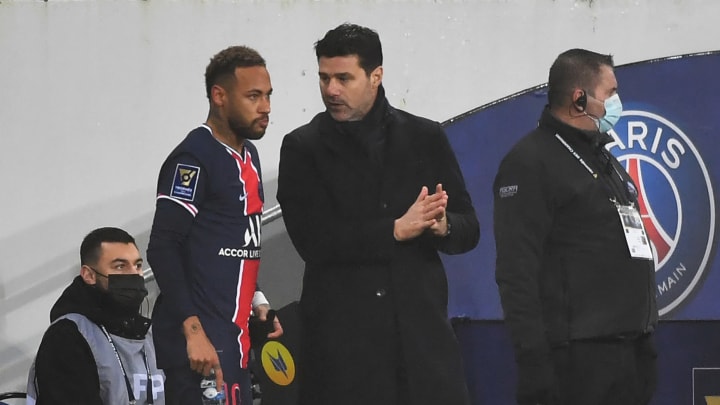 Mauricio Pochettino has revealed what it's like coaching Neymar at PSG / DENIS CHARLET/Getty Images
Paris Saint-Germain boss Mauricio Pochettino has opened up on what it's like coaching megastars Neymar and Kylian Mbappe, and admitted that the Brazilian is "easy to coach" despite claims stating otherwise.
Pochettino took over at PSG after the Ligue 1 giants let go of Thomas Tuchel just before the turn of the year. And while they are struggling to successfully defend their league title this season, PSG are two games away from a second successive Champions League final appearance.
Neymar has played an important role in getting PSG to where they are, and despite claims made by former manager Tuchel, Pochettino has insisted that the 29-year-old is a "very humble" player and easy to coach.
The former Tottenham boss said: "Yes, Ronaldinho was my teammate here in Paris and now Neymar. Brazilian players, they are always different. They have something special inside. They are very open, happy people, always smiling. They love to play football because it's like a dance.
"They play like they are dancing. When I was in south America, in Argentina, I always loved to play against Brazilian teams and the Brazilian players. Because we were talking about the stress … they don't feel the stress, they have freedom when they play. That is a characteristic of the country and the culture of the Brazilian players. They need to feel good and to feel happy to perform in the best way.
"But with Ronaldinho in the past, he was a really nice guy and now Neymar. From day one when we arrived, he was open to work. He's very humble. He listens to you and he always accepts all the instructions in a very good way. Your colleagues in France, they ask me how is Neymar? If he's easy or not to manage? I said it's so easy for us because you don't need to do too much.
"They are very natural. They understand very well every time you try to give some instruction or advice. Like Kylian Mbappe, maybe from outside you can feel and see that maybe biggest star player that has a massive influence on the football world but they are very humble and they love to work and they love football. That is the most important and it's so easy to manage them."