FC Barcelona News
Lionel Messi Sends 'Thank You' Message to 100-Year-Old Fan Who Has Noted Down Every Goal He Has Scored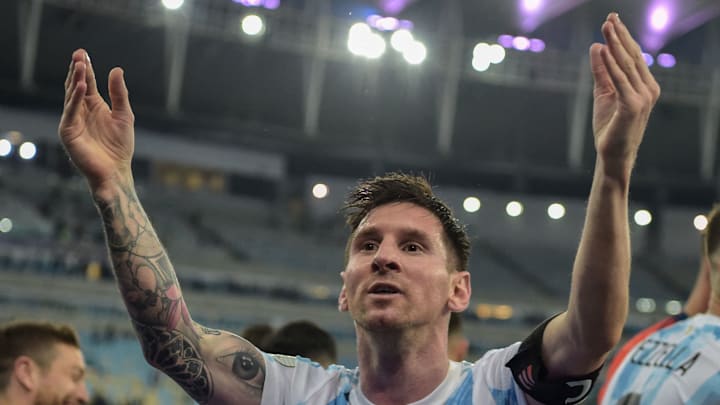 Lionel Messi won his first international trophy with Argentina, leading them to the 2021 Copa America title / CARL DE SOUZA/Getty Images
Argentina and Barcelona icon, Lionel Messi took to social networking site, Instagram to send a thank you message to a 100-year-old fan who has noted down every goal that the record six-time Ballon d'Or award winner has scored in his career.
Hernan has made a note of each goal on paper, where he writes down the date, opponent and the number of goals scored by Messi on the given day, and his grandson recently revealed his hobby on social media.
This dedication earned a thank you video by Messi, with the Argentinian saying, "Hello Hernan. I've listened to your story. It's crazy, I don't have my goals written down like you have done it. I want to send you a big hug and I want to thank you for keeping track of that. I wish you the best. Bye!"
This comes in the wake of Messi winning his first major international trophy for his country, as he led the La Albiceleste to the 2021 Copa America title after they overcame hosts, Brazil in the final of the competition.
The 34-year-old has also reportedly signed a new five-year deal with Barcelona, where he will take a staggering 50 percent pay cut on his previous contract, which means that he will in all probability end his club professional career at the Nou Camp.