Viral Football
Lionel Messi is the Second Highest-Paid Athlete in the World, Cristiano Ronaldo Comes in Third; As per Forbes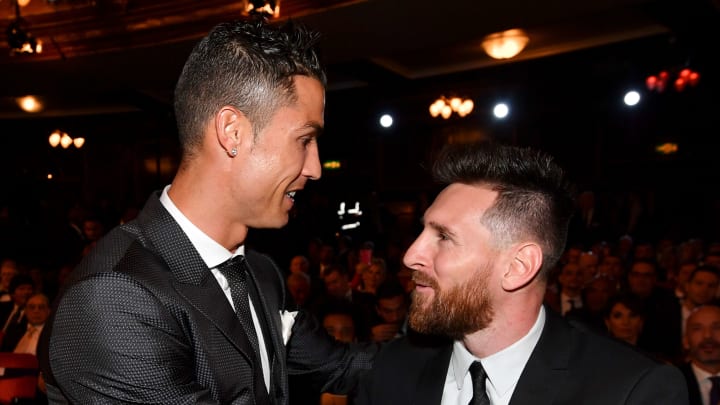 Lionel Messi & Cristiano Ronaldo are placed 2nd and 3rd in Forbes Highest-Paid athletes in the world list / AFP Contributor/Getty Images
Argentina and Barcelona icon, Lionel Messi has been named as the world's second highest-paid athlete over the last year, with the striker coming ahead of rival and Juventus superstar, Cristiano Ronaldo, according to the annual Forbes list.
During the 12-month period ending May 1, 2021, the Argentinian skipper earned £92million - setting the record for the highest earning footballer. The 33-year-old who has been in the spotlight for the last year following his request to leave Barcelona in the summer, earns huge sums of money thanks to his £492m contract and sponsorship deals.
Ronaldo for his part took home £85m over the past year, with Paris Saint-Germain superstar, Neymar the only other footballer in the top-10 list as he netted £67m thanks to his large salary in France. Messi and Ronaldo were pipped to the top spot by Ultimate Fighting Championship (UFC) star, Conor McGregor as the Irishman netted £127m.
The Mixed Martial Arts (MMA) star made just £15m from inside the Octagon, with a majority of his earnings coming from selling his stake in the Proper 12 whiskey company which came up to
£112m.
Top 10 Highest Paid Athletes in the World Over the Past 12 Months
1) Conor McGregor (UFC) - £127m

2) Lionel Messi (Football) - £92m

3) Cristiano Ronaldo (Football) - £85m

4) Dak Prescott (NFL) - £76m

5) LeBron James (NBA) - £68m

6) Neymar (Football) - £67m

7) Roger Federer (Tennis) - £64m

8) Lewis Hamilton (Formula 1) - £58m

9) Tom Brady (NFL) - £54m

10) Kevin Durant (NBA) - £53m