Manchester United
Jose Mourinho Insists Dean Henderson Can Replace David de Gea as Man United's No1 Keeper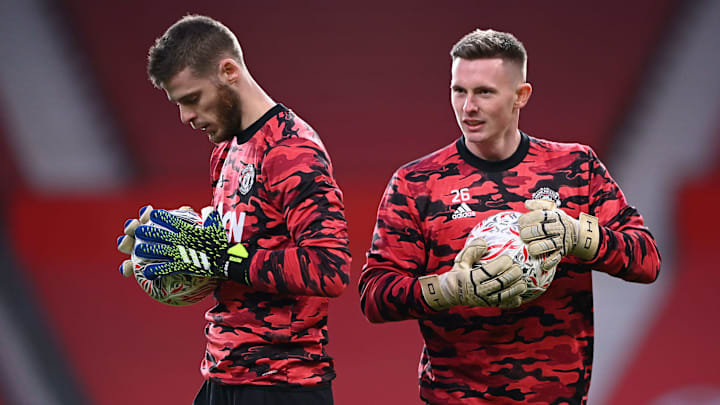 Jose Mourinho believes Dean Henderson is ready to replace David de Gea / LAURENCE GRIFFITHS/Getty Images
Jose Mourinho has claimed that Dean Henderson is ready to replace David de Gea as Manchester United's No1 goalkeeper.
Henderson returned to Old Trafford last season after a long spell at Sheffield United and shared goalkeeping duties with De Gea last season, and Mourinho has backed the young shot-stopper to takeover the No1 spot.
He told The Times: "I think they are good goalkeepers. I don't think they are phenomenal goalkeepers or, in Dean Henderson's case, not yet phenomenal. When I say not yet, I say he will be. I met him at [Manchester] United when he was a kid and I always remember him asking me to go on loan. He was saying "when I come back, I come back to be the No 1". He told me that when he was the fourth choice. He is a kid with an incredible self-confidence and I think he is ready."
Henderson missed out on the United squad that faced Villarreal in the final of the Europa League, with Ole Gunnar Solskjaer opting to pick the more experienced De Gea ahead of him. However, the Red Devils' boss faces an important decision ahead of the next season, and needs to take a call on who gets the key position in between the sticks for United.
Roy Keane highlighted the 24-year-old's size as an issue, saying: "He looks so small in the goals, that's my worry [over] Henderson. He has a good mentality, good temperament and is good with his feet, but I've seen a few goals go in recently where he looks so small in the goals."
Henderson is one of England's back-up choices heading into Euro 2020, with Everton's Jordan Pickford firmly established as Gareth Southgate's number one.