EURO 2020
Jose Mourinho Admits to "Crying and Praying" After Christian Eriksen's Collapse on the Pitch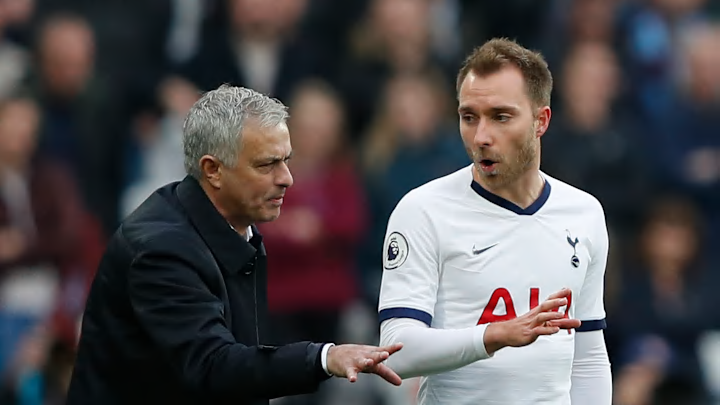 Jose Mourinho has revealed he cried and prayed after watching Eriksen collapse on the pitch / ADRIAN DENNIS/Getty Images
Jose Mourinho has admitted to breaking down crying and praying following Christian Eriksen's collapse on the pitch after suffering a cardiac arrest during Denmark's Euro 2020 clash with Finland.
The 29-year-old slumped to the ground and was given immediate medical attention before being taken to the hospital, where doctors confirmed that Eriksen had suffered a heart attack. And Mourinho, who coached Eriksen at Tottenham, admitted his reaction was one of shock.
"Today I cannot stop thinking about what happened yesterday," Mourinho told talkSPORT. "I think it's a day to celebrate, not to be sad. Hopefully football went in a direction where the organisation, the protocols the level of the doctors and the specialists, and I also believe God was looking at football in that moment.
"Everything together made Christian to be with us, to be with his family, to be alive. It was much more important than football but at the same time I believe that it also showed the good values of football.
"The love, the solidarity, family spirit. It was not just about his family it was about the football family. Football bringing people together. I prayed yesterday, I cried yesterday, but how many millions did it around the world? I believe many because football can bring people together."
Eriksen was taken to the hospital after collapsing on the field in the first half of the game, and required extensive on-pitch treatment before being carried off on a stretcher.
Danish Football Union (FU) Director of Football, Peter Moller, revealed that Eriksen managed to speak with his teammates from the hospital, and were "playing the match for Christian". "He collapsed and got help and heart treatment on the field," Moller told DR. "He was fortunately awake when he left the stadium.
"We have been in contact with him, and the players have spoken with Christian. That's the good news. He is doing well and they are playing the match for Christian. Our thoughts are with Christian's parents and his family."