Gareth Southgate Slams Racist Abuse Directed at England Players in World Cup Qualifier vs Hungary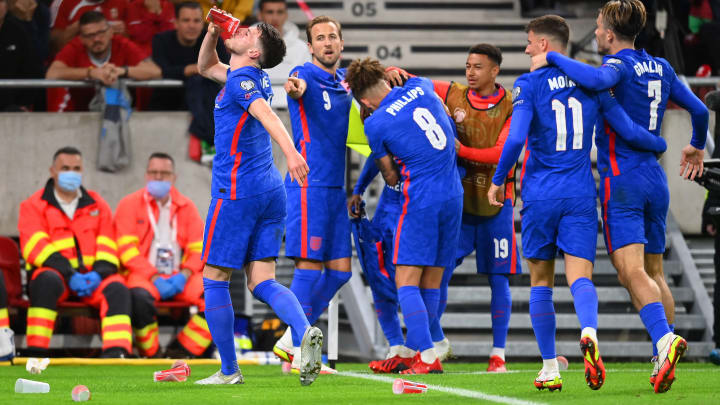 England players were hit with racist chants and empty beer glasses by Hungary fans / Michael Regan/Getty Images
Gareth Southgate hit out at the racist abuse directed towards his England players during their World Cup Qualifier with Hungary on Thursday night.

The Three Lions recorded a comfortable 4-0 win in Budapest, but the celebrations were marred after a number of players were targeted with monkey chants. Raheem Sterling and Jude Bellingham were among the players widely booed for taking the knee before kick off, and Southgate slammed the incident, but praised his players for their reaction.

He said: "We weren't really aware of it on the bench but it sounds like there have been some incidents. People know what we stand for as a team and that's completely unacceptable. Everything has been reported to UEFA and we will see what happens from there. There's no more this group can do in the fight against racism. We are trying to uphold our part of it and other people have to take the right action to try and make progress.
"It's for other people - and me in the main - to protect the players but the authorities as well. They shouldn't have to be subjected to any forms of racism. Our head of security has spoken with he players and taken their statements and we will deal with it in the right way, through the right channels. But it's not fair to criticise all the Hungarian fans, its a very similar situation to the one we find at home I think.
"The individuals that are responsible need to be dealt with, I think there's evidence of people being filmed and we have to hope it's defat with in the right way. The world is changing and although some people are stuck in their prejudices, they are going to be the dinosaurs in the end because the world is modernising."

The Football Association released a statement condemning the abuse soon after the final whistle, it read: "It is extremely disappointing to hear reports of discriminatory actions towards some of our England players.

"We will be asking FIFA to investigate the matter. We continue to support the players and staff in our collective determination to highlight and tackle discrimination in all its forms."