Juventus News
Fans on Twitter Believe Cristiano Ronaldo Should Have Been Shown a Red Card Before His Hat-trick Against Cagliari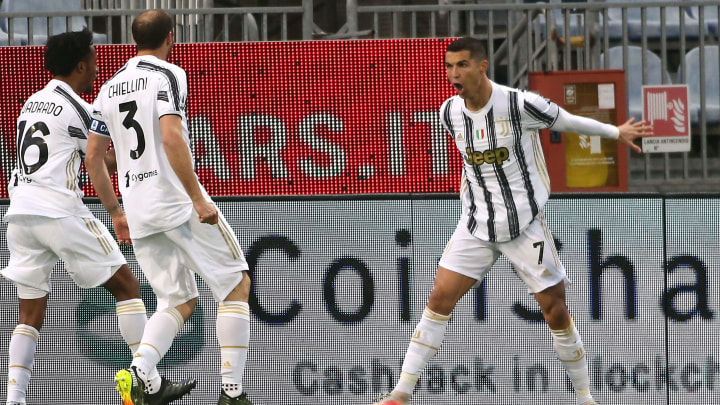 Cristiano Ronaldo celebrates his hat-trick against Cagliari on Sunday / Enrico Locci/Getty Images
Cristiano Ronaldo scored a perfect first half hat-trick against Cagliari on Sunday, but football fans on social media totally believe he was lucky to still be on the pitch before his second goal.
Ronaldo came into this game on the back of a disastrous week after being heavily criticised following Juventus' knockout of the UEFA Champions League at the hands of FC Porto.
After having a poor game overall, Ronaldo was also blamed for turning his back on the match-winning free-kick for Porto.
The 36-year-old Portuguese maestro is known to hand in a comeback to critics as he has always done throughout his career. And he did exactly that by scoring perfect hat-trick in 32 minutes.
Ronaldo opened the scoring in the 10th minute with a header from Juan Cuadrado's cross but just minutes later he may have been sent off.
Ronaldo competed for a cross with opposition goalkeeper Alessio Cragno got to the ball first and Ronaldo got his studs in the Italian's face, but was handed a yellow card for this offence. On another day, this could have easily been a red.
10 minutes after this incident, Ronaldo scored his second goal from the penalty spot. Alvaro Morata flicked the ball onto his teammate and Cragno attempted to get to the ball first but the keeper was beaten to the ball and brought him down.
In the 32nd minute Ronaldo completed his hat-trick by cutting in from the left to smash the ball into the back of the net in what was a blistering counter-attack by Juventus, led by the Portuguese hero.