World News
Cristiano Ronaldo jumps above Lionel Messi to become Forbes' highest-earning footballer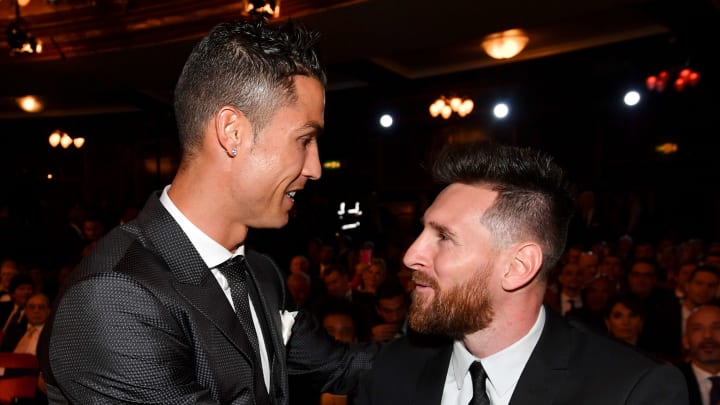 Cristiano Ronaldo leapfrogs Lionel Messi to become Forbes Highest-Earning Footballer / AFP Contributor/Getty Images
Footballing superstar, Cristiano Ronaldo big-money move to Manchester United has ensured that the striker has leapfrogged his great rival, Lionel Messi to become Forbes' highest-earning footballer of the year.
United created headlines when they managed to bring back the five-time Ballon d'Or award winner back to Old Trafford after a gap of 12 years, with the 36-year-old set to earn £91.5million before taxes during the 2021-22 season, with £51.25m of that coming from his salary and bonuses for his return to Old Trafford.
Messi who himself left Barcelona and moved to Paris Saint-Germain on a free transfer will earn £80.5m, followed by fellow PSG team-mates, Neymar and Kylian Mbappe who earn £69.5m and £31.5m to sit third and fourth on the list.
Roger Federer (£66m), LeBron James (£48m) and Tiger Woods (£44m) are the only athletes around the globe who earn more than Ronaldo and in total, the 10 highest-paid footballers are set to collect pretax earnings of around £428m this season, up from last year's total of around £471m.
Forbes' top 10 highest earners in football
1) Cristiano Ronaldo (Manchester United) - £91.5m

2) Lionel Messi (PSG) - £80.5

3) Neymar (PSG) - £69.5

4) Kylian Mbappe (PSG) - £31.5m

5) Mohamed Salah (Liverpool) - £30m

6) Robert Lewandowski (Bayern Munich) - £26m

7) Andres Iniesta (Vissel Kobe) - £26m

8) Paul Pogba (Manchester United) - £25m

9) Gareth Bale (Real Madrid) - £23.5

10) Eden Hazard (Real Madrid) - £21m