Real Madrid News
Carlo Ancelotti Admits Sergio Ramos' Future is Unclear at Real Madrid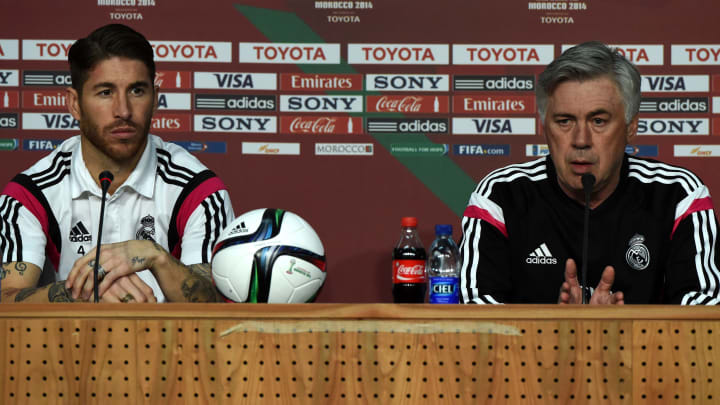 Carlo Ancelotti returned to Real Madrid earlier this week / FADEL SENNA/Getty Images
Carlo Ancelotti returned as Real Madrid boss earlier this week and admitted he wants to coach Sergio Ramos again, but added that the defender's future at the club is in doubt right now.
Ancelotti left Everton and returned to Spain, where he previously managed Los Blancos between 2013 and 2015. The Italian spoke about Ramos' future during his unveiling press conference, but admitted that the defender's future is undecided.
Asked at his introductory press conference about Ramos, Ancelotti said: "I can't imagine a Real Madrid without Sergio Ramos but I also couldn't imagine a day without Carlo Ancelotti!"
Speaking more about the 35-year-old defender, who has been at Real Madrid since 2005, Ancelotti added, "It is clear that Sergio Ramos is a very important player and has been fundamental for many successes at this club. I know there are talks over a renewal, but I don't know the details, when I do, I can say more."
The 61-year-old was also asked about Eden Hazard's future, as he continues to battle injuries while trying to find his best form. Ancelotti said, "Hazard is a top player, he has had injury problems and hasn't shown his top potential yet here. I believe he can do that next year. He wants to and is motivated."
The former Everton boss also admitted that he is looking forward to working with Gareth Bale next season, despite the Welshman's future being unclear.
He concluded, "Gareth has not played much in the Premier League. But he scored lots of goals, was very effective in recent games when he had a chance to play. He is coming back, I know him very well, he will be motivated to play better and have a great season, no doubt."