FC Barcelona News
Can FC Barcelona Win La Liga This Season?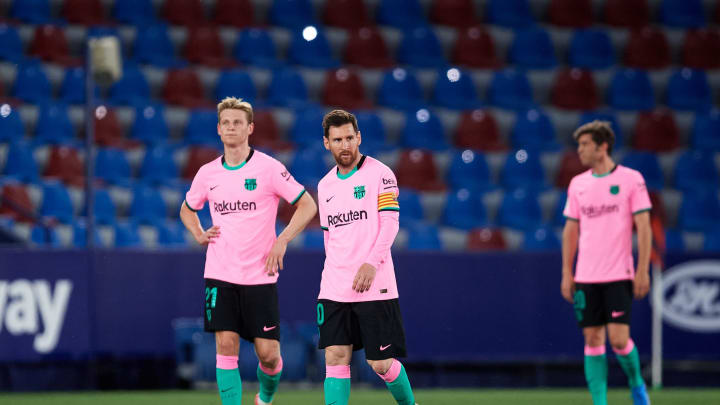 Barcelona only have slim chances of winning La Liga title / Alex Caparros/Getty Images
La Liga has only two rounds of fixtures remaining, but the title winner has not yet been decided.
Atletico Madrid are the league leaders, while defending champions Real Madrid and FC Barcelona sit second and third respectively.
Of the three, do Barcelona have any chance of winning the league title? or can they become the Spanish champions this season?
Mathematically, Barcelona still have chance to claim the trophy at the end of the season, but, practically, it's unlikely they will, given their current position in the table.
Barca trail Atletico Madrid by four points and Real Madrid by two, so the title is not in their own hands.
In addition to winning their two remaining fixtures, Barcelona need Atletico and Real to drop at least five and two points respectively.
Barcelona's remaining fixtures are against eighth-placed Celta Vigo and relegation fighting Eibar, and the Blaugrana are expected to win both.
Meanwhile, Real Madrid have a slightly tougher run-in as their remaining two games are against ninth-placed Athletic Club, and seventh-placed Villarreal, who had held them to a draw in the reverse fixture in November last year. Optimistic Barca fans can hope Los Blancos to drop points in at least one of the two fixtures.
As we said, Barcelona need Atletico to drop at least five points, out of a possible six. But, it's unlikely Diego Simeone's side will drop enough points for Barca to jump ahead of them in the table. Their next game is against 11th-placed Osasuna, and a win would throw Barcelona out of the title race. Even if Atletico concede a defeat or draw, you expect them to win their final game of the campaign, which is against 18th-placed Real Valladolid. But, miracles can happen, Barcelona fans.
All in all, Barcelona's title hopes could be over as early as tonight, but let's not say over until it is over.
---